5 Steps For An Eco Friendly Bathroom
Posted on
Those who have read my previous blog 'Growing Up In A Soap Family' will know that I grew up with humble beginnings when it comes to beauty products. My mum has always avoided perfumes, lathers and the like, preferring a simple bar of soap to do most of the hard work. Bubble bath came but once a year with Father Christmas. It was an eco friendly approach years before the term was coined!


In the spirit of teenage rebellion, as soon as I left home I did my very best not to emulate this approach, trying out all sorts of lotions and potions, taken in by the fabulous array of intoxicating (pardon the pun) marketing campaigns. The sound of an aerosol can being sprayed takes me back to this era!

However, the apple didn't fall far from the tree after all, and as I started to learn more about what goes into many beauty products, and the toxic effect it can have on both us and the environment, I gradually returned to a simpler routine. In this third of my eco living series, I share the ways in which you can change the products you use, from both the standpoint of reducing chemicals and the amount of plastic you have in your household.
Swap 1: Showel Gel & Foam For Soap
As a family, we swapped shower gel for soap a few years ago now. Soap, the original 'all-rounder' can be used for washing all parts of the body, as well as making an excellent stain remover. Soap has had its own bad press over the years, what with the presence of palm oil in many off-the-shelf soaps, so choose a natural soap which doesn't contain either palm oil or other synthetic ingredients. Palm Oil, used in so many Western products, is a huge cause of rainforest destruction in Asia as land is clearer to grow the crop.
Soap contains far fewer ingredients than shower gel, comes in minimal, recyclable cardboard packaging and is more sustainable to make and transport. The use of natural ingredients means that natural soap won't strip your skin of natural oils, and makes it suitable for all skin types (and ideal for those with skin conditions like esthma).

From a plastic-free whilst on-the-go perspective, soap is easy to transport. When going away, we cut ours into pieces, one for each of us, and pop into a plastic-free soap dish. You can also use a small soap bag. It will also save you any liquid in hand luggage issues at the airport!
It's time to kiss goodbye to your brightly coloured, synthetically scented, plastic-fantastic shower gels - they are so 90s!
Swap shower gel for soap, and choose natural where you can (check the ingredients list as 'natural' doesn't always mean natural!)

After trying a variety of soaps, I chose a range of Natural Soaps made in the UK by the All Natural Soap Company. They smell gorgeous, and are suited to even the most sensitive of skin.


You can remove another layer of plastic in the home, as soaps have cardboard packaging. Use a Plastic-Free Soap Case or Soap Bag to transport.

Swap 2: Wet Wipes For Reusable Cotton Wipes
Wet wipes are undeniably useful for wiping hands, faces, bottoms and even work surfaces. They are the ultimate convenience product. However here is the rub, most wipes are not biodegradable and as such cause a host of problems in the environment, such as fatbergs in sewers and pollution in rivers and seas. They were labelled 'the biggest villain of 2015' by The Guardian.
One of the main reasons they cause such an issue is that most wipes contain a form of plastic, which makes them incredibly strong and long lasting (ironically seeing as they are single-use). On a documentary I saw they used a wet wipe to pull along a car, and it didn't tear!
Before wet wipes came along, a flannel and/or soap did the same job. For many years I used the children's old muslin cloths for make up removal, before swapping for some organic cotton rounds that I found to stock at TWH, handmade in the UK by Tabitha Eve.
There are an ever growing number of reusable wipes on the market, alongside nappies, sanitary towels and the like, most of which are handmade by small UK companies.
For make up removal, you can use Washable Organic Cotton Wipes. You can also make your own if you are dab hand with a sewing machine.


Use washable wipes with a small bottle of oil and water to efficiently and gentle clean babies bottoms. For washable nappies and other eco friendly sanitary products, try Nooby Noo and Baba & Boo.
If you don't want to live without disposable wipes completely, Ethical Superstore sell biodegradable wipes (but you still musn't flush them).

Swap 3: Disposable Towels For Period Pants & Washable Pads
With a nearly 11 year old daughter, I am thrilled to witness the changes and innovations in menstrual products. My personal favourite are the period pants - no, I'm not referring to the old, scruffy pair you reserve for your time of the month - the innovative, ultra absorbent pants that you can just put on and leave to 'do the job' for a few hours at a time when on your period.
I have been using WUKA pants for the past few months now, and they work a treat for keeping me dry and feeling secure. There are also a wide range of washable sanitary pads on the market. They come in a range of funky designs and work along the same principle of ultra absorbency. These are an excellent choice for teenage girls. You do need to rinse them out by hand, before popping into the washing machine. I find this easier to do this than having to rinse out knickers and clothes that have been subject to a leakage.

I keep a box of tampons in the cupboards for very occasional use on evenings out and the like. I like the Natracare range from Ethical Superstore, as they are made using natural materials and are chemical and additive free.
Try washable period pants or sanitary towels. Whilst the initial cost is relatively high, you will save £££ over months of not having to buy disposable sanitary products. We like WUKA pants. Cheeky Wipes and Babipur sell a good range of towels.
Switch to organic, recyclable alternatives by brands like Natracare. An excellent range is available from Ethical Superstore, including menstrual cups. For the high street, try health food stores.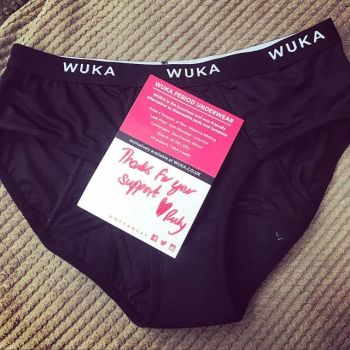 Swap 4: Disposable Razor To Stainless Steel Safety Razor
I switched to a safety razor around a year ago - such an easy swap to make to avoid disposable razors, blades and plastic packaging. I bought five stainless steel blades with my razor, and haven't had to buy any more as yet as they stay sharp for ages. A great money saving swap!
My razor came from the English Shaving Company, and I opted for the Edwin Jagger. The blades are recyclable and no plastic is used to manufacture the razors.
Swap 5: Antiperspirant for Natural Deodorant
It took a few years to make this switch, as I was unwilling to do so until I found a natural deodorant that worked for me. As those of you who have read my blog 'From A Bit Whiffy To Whiff Free' will know, I finally found a natural deodorant that worked a few years back.
All Natural Deodorant Co make a wide range of natural deodorants to suit a range of body and skin types. They are handmade using all natural ingredients and work in harmony with your body, allowing you to perspire rather than blocking the sweat ducts. We sell a range of their Deodorants at The Wise House, and the even better news is that the packaging is about to go completely plastic-free!
Fortunately, there are far more natural deodorants available now - although the high street seems slow to catch up with this!
Summary
We live in an era of information overload, a time when most of what we eat, breath and put on our skin is under question. Our homes are deemed to be toxic (see Toxic House Syndrome) and the products we use contain a mind-boggling array of chemicals, too many to name, let alone understand!

With this in mind, it makes good sense to go back to basics by reducing the number of products we use (and this extends to cleaning as well as beauty and hygiene). If you can find an effective natural alternative with far fewer ingredients, it makes sense to swap. These products often come with the added bonus of reduced plastic. In an era when we are drowing in the stuff, make some simple swaps on things like wet wipes to further reduce your plastic use.
Look for easy swaps. For example, I have stopped using cleanser and toner, choosing to wash my face with soap instead. If I've had a heavy eye makeup session, I use a basic Hemp Oil and cotton pad to wipe off.
Take a look at the products in your house and decide what you could live without. It is OK to save some products 'just for Christmas'!
Take advantage of the many eco friendly brands out there. Most of them are independent, ethical businesses making it far easier for us to make simple swaps! Instagram is a fantastic resource for finding them.

Be open to trying natural alternatives versus your favourite brands. Whether it be deodorant, face cream or shampoo, there is no harm in trying!
Next time we'll be looking at other products like Toothbrushes & Toothpaste.
Written by Lucy Taylor, The Wise House
References
https://www.huffingtonpost.com/deborah-burnes/skin-care_b_1540929.html
https://www.theguardian.com/sustainable-business/2017/sep/28/last-place-on-earth-deforestation-palm-oil-threat-leuser-rainforest
https://grist.org/living/whats-the-greener-choice-bar-soap-or-body-wash/
https://www.bbc.co.uk/news/44034025#
https://bodyunburdened.com/5-face-oils-for-naturally-clear-flawless-skin/