Bulbs To Plant In Autumn for an Insect Friendly Spring Display
Posted on
Why Plant Bulbs?
Bulbs are quick and easy to plant, and your efforts now will be rewarded in Spring with a colourful display to warm your heart (and leave you feeling a little smug :-). Bulbs take up very little space, and can be planted in pots, window boxes, flower beds. naturalised in your lawn, or planted in a communal area if you're up for a spot of guerilla planting.
If you see a spot of bare soil, why not plant a bulb in it?

When Should I Plant Bulbs For Spring Flowering?
Autumn is the time to plant bulbs for Spring and early Summer flowering. Mild weather, warm soil and reliable rainfall give bulbs the ideal conditions to get cosy and establish themselves in the soil. In fact now that our Autumn and early Winter months are mild, you can get away with planting bulbs right into the New Year, providing there are no repeated hard frosts.
In 2022 we planted daffodil bulbs in the local park very late, in February, and they happily bloomed two months later much to our delight.
How & Where Should I Plant Bulbs?
Bulbs, in particular Tulips, English Bluebell and Narcissus, are versatile and most will grow in sunshine or semi shade (Bluebell in deep shade). If you are planting in pots, you can stagger the rate of your blooms by placing some pots in a sunny spot for earlier blooms, and others in a more shady area so that they flower a little later.
The only equipment you need to plant bulbs is a garden spade or any implement that allows you to dig a small hole in soil. A bulb planter make the process a little quicker if you have lots of bulbs to plant.
Check the bulb packet, but as a general rule most bulbs should be planted at 3 times their depth.
I read recently that planting deeper than that gives the bulbs a better chance of re-flowering in future years, so if you are planting in borders, a lawn, or around the base of a tree, try to plant the bulbs as deeply as possible, up to 6 times their depth.
Once bulbs have finished flowering in pots, remove them and store in a cool, dark space. You can then replant the following Autumn and the bulbs should flower once again. Monty moves his pot bulbs into the ground after one year of flowering in a pot.
Earlier today I planted a pot of old bulbs I had stored into the school garden that I look after. Most of the bulbs seemed fine, it is easy to tell which have gone moudly when you squeeze them!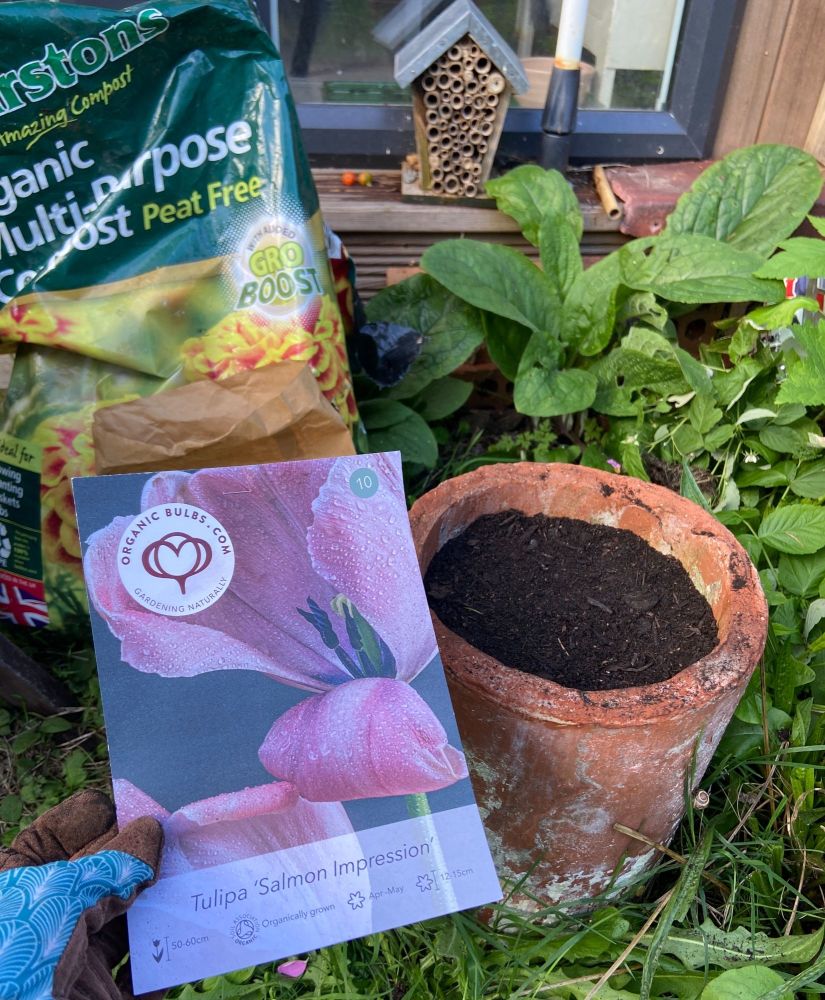 Organic Tulip Bulbs planted in an old chimney pot using Peat Free Compost. Cover the top with gravel or sticks to prevent squirrels from digging up the bulbs.
Which Flowers Bulbs Should I Plant?
There is an overwhelming choice of bulbs available in garden centres, including many different colours and varieties. My favourites are:
Allium
Crocus
Narcissus
Tulip
Fritillaria
Snowdrop
Bluebell
Camassia
To make it easier for you to choose from such a huge variety, I have chosen a selection of particularly beautiful Organic Bulbs to stock here at The Wise House.
I have selected three Tulip colours that I think really stand out against the fresh new greenery of a Spring garden; Tulip Catherina 'Ivory', Tulip Ronaldo 'Deep Purple' and Tulip Salmon Impression 'Dusky Pink'.

I also have in stock Native Bluebell, which is far more delicate and less invasive than its Spanish counterpart. Early English Bluebells are also an important source of nectar for bees.
In addition I am selling Allium 'Purple Sensation', the glamour girls of the bulbs world, adding height and structure to any outdoor space. I love their seed heads just as much once they have finished flowering, and they can be left to be admired and to attract insects, particularly spiders who love to spin a web between heads.
Allium 'Purple Sensation' - flowers May to June
Where Should I Buy Bulbs?
You can buy bulbs from many different places, but my top tip would be to buy bulbs cultivated without the use of chemicals, like those I stock at The Wise House!
I source and sell specifically organic bulbs at The Wise House, as I found that I was unable to find natural bulbs available to buy in the usual places. They are sourced from Organic Bulbs, a UK company who were winners of Best Show Garden 'Rewilding' at the Chelsea Flower Show no less!
In response to selling organic bulbs, quite a few people have asked whether conventional bulbs are grown with chemicals. The answer is, I'm afraid, yes. You may notice the neutral smell of these organic bulbs versus those bought from a garden centre, the latter typically grown with chemical fertiliser. It's interesting as you realise that the smell really hits you when you walk into a Garden Centre entrance.
Organic Bulbs are more expensive, but still represent great value when you compare to a bunch of flowers for example. Good quality organic bulbs like these ones will come back year after year.
To understand more about the benefit of growing organic bulbs, read this article from The Guardian - "Let bee-friendly bulbs transform your spring".
Enjoy 10% off bulbs at The Wise House with code BULB10.