How To Start A Forest Garden At A School
Posted on
Most of us are familiar with the concept of grow your own, the seasonal planting of annual crops like potatoes, beans and tomatoes. Forest Gardening, also referred to as permaculture, is also a method of growing food, but rather than annual crops a forest garden consists of multiple layers of perennial vegetables, herbs, shrubs, fruit and nut trees that continue to grow year on year.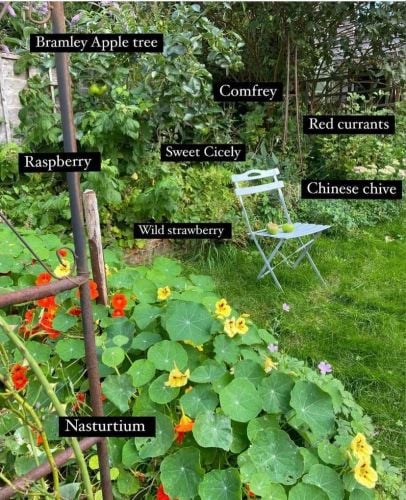 This ancient way of producing food is now seeing a resurgence in popularity as a sustainable way to grow food, needing very little ongoing maintenance. Music to our ears!
Autumn is the perfect time to plan and start planting a Forest Garden, and don't be put off by the size connotations of the word 'forest'! You need very little space to grow your own edible plants, and if you have strawberry plants or a fruit tree, you are already on your way. One of the most attractive features of growing this way is that it requires very little ongoing maintenance, far less than that of a veggie patch.
Create A Community Edible & Wildlife Garden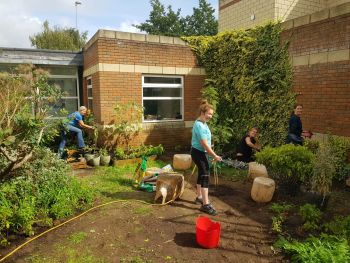 We've planted a small 'Forest Garden' area as part of 'The Wren Garden', a newly created wildlfe and human-friendly garden at my daughter's secondary school.
These are the plants we have included:
Ground Level
Strawberries
Rhubarb
Mint
Mid Level
Raspberries
Thornless Blackberries
Blueberries
Upper Level
Victoria Plum Tree
Peach Tree
Grapevine
Raised Wheelbarrow Planter (reclaimed from a skip)
Sage
Rosemary
Oregano
Lavender
Marjoram
All of this is located next to the more traditional 'grow your own' raised beds, where students have planted out vegetables that they grew from seed. The teens and teachers will be able to pop a ripe plum into their mouths and enjoy strawberries in season whilst on their lunch break. What better way to learn about where food comes from, and how easy it is to grow?
A diverse garden like this is also fantastic for insects, who will be attracted to the fruit blossom and will in turn pollinate and ensure a bumper crop of goodies!
Projects like this one shows that no matter what the space, it can be regenerated into somewhere productive and beautiful for everyone to enjoy. A space that gives back. Families, neighbours and communities benefit from shared knowledge, the spirit of comraderie and the huge feeling of wellbeing that a garden like this can give back.
' I never knew I would be planting flowers and vegetables but look at me I'm going to start doing it and I actually enjoy it, I find it very peaceful.' Student, Energy Garden UK