Less Bling, More Brown Paper & String
Posted on
6 Tips For Eco Friendly Wrapping
Whether you are a last minute dash to the shops, throw the paper on, cellotape in teeth kind of a person; or wrapped by 1st December, precise folds, silk bows kind of a person, try following these tips to become up a less wasteful, more eco geeky kind of person.
1. Brown Paper Packages Tied Up With String
Basic
Brown paper is a traditional and extremely cost effective ways to wrap gifts. Large rolls are widely available to buy online, with the added bonus that they will cover all sizes of gift. If you're on a tight budget go for imitation kraft or spend more for ribbed brown kraft paper with a thicker, more luxurious finish.
You and the children can have fun decorating the paper. You could also write your gift message straight onto the paper to avoid the need for tags.
Budget - Hobbycraft Kraft Brown Wrapping Paper
Luxury - Gift Wrap It Ribbed Kraft Paper or Burrow & Nest Brown Paper
Add Bells
Invest in a spool of string or paper raffia ribbon, widely available online. For The Wise House Eco Gift Sets and Christmas Gift Wrap I use red and white striped string. Tie up each gift in the traditional parcel way, or check out Pinterest for all sorts of stylish variations.
Little Cherry - Compostable Ribbon
Imaginediy - Hemp & Flax Cord & Bakers Twine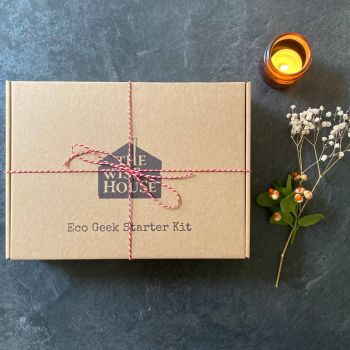 Add Whistles
Get out into the Great Outdoors and forage!! Plants like holly, rosehips and ivy all look lovely. A reader of this blog also suggested dried orange and cinnamon sticks, to add a gorgeous smell too!
Invest in a Christmas themed stamp so that you can customise your brown paper. Try The English Stamp Company for a wide choice for both paper and tags, including the option to personalise.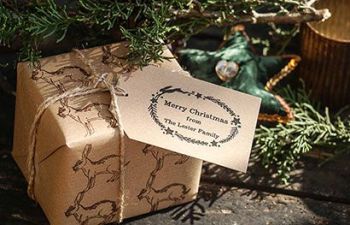 2. All That Glitters Ain't Gold - Wrapping Paper Dos And Don'ts
Avoid buying paper wth a high gloss or glitter as recyclable.


My dad was a printer by trade, and he told me that gold and silver are the most toxic inks to print with, so try to avoid paper with those colours.


Look for 100% recyclable wrap.

John Lewis/Waitrose

, Paperchase & WHSmtihs all have some great options.



Look for paper that is recycled (as well as recyclable).

I am using some beautiful recycled Christmas grass paper wrap at The Wise House this year, so that customers can choose to have their order sent wrapped and ready to go (see image below). Shop Gift Wrap Category.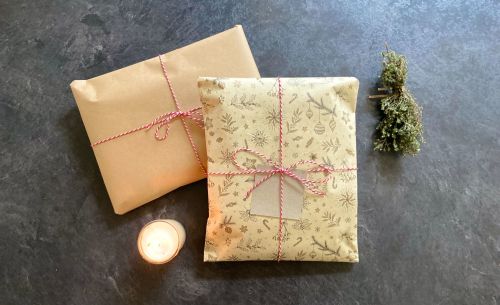 3. Work Some Christmas Magic With A Twist Of Fabric
Basic
Wrapping with fabric might sound like a newfangled idea, but in fact Furoshiki is a traditional Japanese wrapping technique that has been used across Asia for hundreds of years. Check out Pinterest or read this guide by Fabric Wrapping Co for different ways to tie your fabric.
Use scraps from home, or buy a suitable ream of fabric from your local haberdashery. The beauty is that you can cut a variety of sizes to suit different gift shapes. More importantly, you can reuse for many years, and save a great deal of waste and pennies in the process!
Add Bells
Custom made fabric wrap is now becoming more widely available, printed in a range of gorgeous patterns and colours. I noticed that even John Lewis are selling fabric gift bags. Try Tabitha Eve for a Christmas family bundle, one of which we bought last year to use for our close family gifts. They also sell fabric gift bags in gorgeous Christmas prints.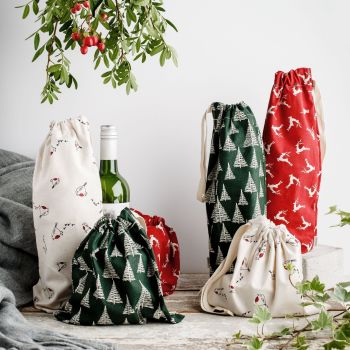 Add Whistles
The Fabric Wrapping Co sell the most beautiful fabric wrap, complete with pom poms and silk fabric. Totally luxurious.
You can also add your own embellishments to a fairly plain fabric wrap from the contents of your sewing box - tassels, ribbon, buttons etc.
4. On The First Day Of Christmas, My True Love Said To Me - Reuse To Save Chopping Down Trees
We've talked a bit about reuse, which is of course the most eco friendly way to go. Take it to full eco geekdom status with the following ideas:
Basic
Use old magazines, newspaper and tissue to wrap gifts. For smaller presents I cut up large paper envelopes that I have received, as it works in the same way as brown paper wrapping. I send many of my orders in grass paper envelopes which would make lovely gift wrap. Check out this Pinterest board by Pebble Magazine for more inspiration (image below by Pebble Magazine).

Add Bells & Whistles
I save every scrap of ribbon, string and other nic nacs that I receive throughout the year and keep it all in a large tin. This is a great way to prevent non biodegradable embellishments like bows and ribbon from landfill. Dip into your tin every time you wrap a gift (and snatch it back again if you think the recipient is more likely to throw it away!). I've even kept the ribbon from the children's medals!
5. Bye Bye Cello, Brown Tape 'Hello'
Basic
It's only when you start using brown paper tape that you realise how horrible cellotape is! The simple budget option is plain brown tape, widely available online.
Add Bells & Whistles
To switch things up a bit, go for decorative paper tape. This year, for the first time, I have in stock gorgeous paper tape at The Wise House - in both narrow and wide sizes - perfect for presents and parcels alike. It is selling fast!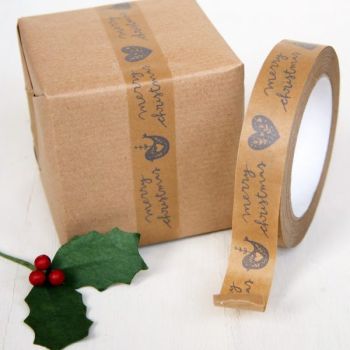 6. Make Free Tags Your Bag
Basic

Tags can be an expensive way to let a person know who the present is for and from. You either ditch this step all together, particularly if you are handing over your gift in person, or try making your own.
Add Bells

A free way to make tags, and a tradition going back through the Rowe family, is to cut up the previous years Christmas cards. It takes a bit of time but children usually quite like to get involved, so it can become a family activity.
And Whistles

If you prefer your tags custom made for Christmas, look for manilla and/or recycled paper tags, following the same rules as with the wrapping paper. You could even paint or draw your own designs onto plain tags, for the personal touch.
Gift Tags come as standard with all gift sets from The Wise House.
For more eco gift ideas, shop The Wise House.