Front Door Closed, Cupboard Doors Open - Tips For A Resourceful Lockdown
Posted on
My lockdown journey began with a slightly manic clearing out kitchen cupboards phase, as the survival instincts kicked in and I started to wonder if we could eat the rice from our door stops and forage for food from the local park (and a small part of me wanted to try :-D)! As our front doors closed so it seemed our cupboard doors opened. In searching for things to do to break up the Groundhog Day monotony, a clearout began on an unprecedented (that word again) scale!
In this blog post I share with you tips and resources that will help you make the most of your archeological cupboard discoveries, many of which have been borrowed from other creative souls.
1. Use Up Kitchen Cupboard Leftovers
A delve into the kitchen cupboards will no doubt reveal an interesting array of foodstuffs, bought in a moment of culinary ambition, used once, and since forgotten! I discovered a variety of grains and a big slab of what was once marzipan (I think). The latter was donated to the wormery!
Now that we have more time at home to cook from scratch, and are making fewer visits to the shops, this is the time to embrace the leftovers.
2. Harvest Free Paper From Old School Text Books
At the end of each school year the children bring home their exercise books, which at secondary level equates to a lotta books! I can never bring myself to throw them away, not for reasons of nostalgia but for the fact that they are still full of unused pages. As such we have ended up with numerous stashes around the house.
A shortage of paper whilst on lockdown gave me the nudge I needed to do something with those books, and I spent a couple of hours removing all of those empty pages. I recommend a sharp blade, and some good music, for the job - a great mindless activity! We now have excellent supplies of lined, squared and plain paper...for free!
3. Give Pencil Sharpeners A New Lease Of Life
How many pencil sharpeners do you have in the house? How many of them actually sharpen?! We have too many to count, yet when one of us (actually only ever me) tries to sharpen a pencil we never seem to be able to find one that works properly. This is because pencil sharpener blades do become blunt with time. You can give them a new lease of life by ordering new stainless steel blades online cheaply, and fitting them. They are cheap to buy, and all you need is a small screwdriver to remove the old and replace with the new. Easy!

https://www.amazon.co.uk/Spare-blades-metal-pencil-sharpeners/dp/B00AWAUHKQ

4. Make and grow your own using shed discoveries!
A shed clearout can uncover all sorts of wonders; from old planks of wood and containers, to seeds and paint. This paraphernalia might normally end up in a skip, but can in fact form the beginnings of many a project like those below;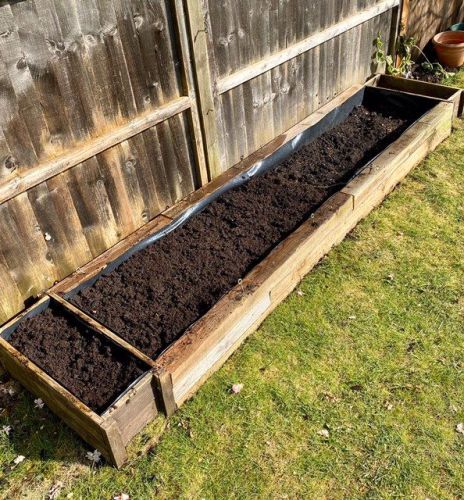 5. Make Your Own Flower Arrangements
You can make the most beautiful flower arrangements for your home using almost anything from your garden and outdoors, including stems, branches, buds, dead-heads and of course flowers in bloom. Making your own is free, quick and easy to do. Just whip round the garden with your secateurs - in 5 minutes you'll have a posy like that pictured below.

Try to set aside your traditional views of what a bunch of flowers should comprise; many of the typical floristry arrangements are grown intensively abroad and have a negative impact on the environment. They often don't particular reflect the seasons, unlike your homemade posy which will put you in mind of the time of year - like beautiful dried berries and seed heads in Autumn.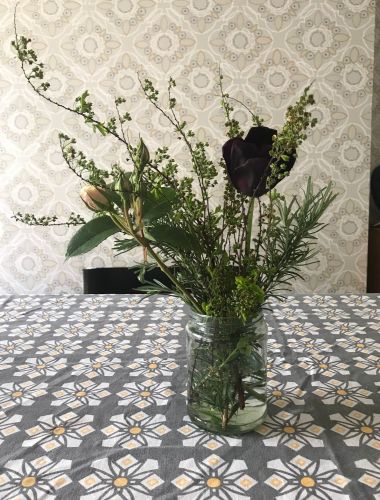 When you do treat yourself or someone else to a bunch of flowers, avoid buying from the supermarkets and look for small, independent florists that can tell you where the flowers were grown. We are lucky enough to have a local florist, There May Be Bugs, who grows everything in her own garden and creates stunning bouquets.

6. Share With Neighbours On Your Street
One of the most positive things to come out of lockdown is the creation of a whatsapp group for everyone on our street. Residents have been helping each other; sharing, loaning and giving all manner of things including; books, puzzles, car seats, troglodyte fossils (yes, really!), decking sealant, plant pots, plants and much more. My favourite example is when one resident managed to buy a large bag of flour; she then offered half to the rest of the street and that half was split once again in four portions. We could all eat cake!
It's something that as communities and neighbourhoods, we probably should have been doing all along. It's such a great way to re-allocate resources, and saves everyone money on buying new every time they need something.
These are just a few tips from lockdown life; please do share your own in the comments section below. How have you been resourceful and reduced waste in your own home?
Further Reading

https://www.theguardian.com/food/2020/apr/19/make-the-most-of-your-store-cupboard-recipes-jack-monroe-tinned-peaches-tahini
https://www.lovefoodhatewaste.com/ has some great tips including some brilliant recipes.
https://www.lovefoodhatewaste.com/recipe/zero-waste-potato-and-veggie-hash