Are We Seeing A Return To The Old Ways (Are The Best)?
Posted on
We live in a world of the mass-produced; from cheap value goods to high street brands and designer labels. Traceability – how, where and by whom a product is made – is rarely front of mind when we see a product we like at a good price; or indeed a product made by a brand we want to be seen with and will pay a premium for.
Recently, I read an interesting article by Mary Porter, who spent 2 hours examining 63 items of clothing on the high street, until she finally found what she was looking for 'one single item, a dress, which has been made in the UK.'
The fact is that the vast majority of retail goods are now mass produced overseas. The resulting impact on the UK manufacturing sector has been huge, as evidenced by its decline by two-thirds in the past 30 years.
I'm no different to the next person in my buying behaviour; do I like it? Is it affordable? I want it! My ethics stretch to convincing myself that I will get as much use out of it as possible.
However, when I really think about it, I do derive more pleasure from discovering an item that shows something of its origin; whether it's in the design, attention to detail, craftsmanship, or originality. I love owning things that are unique to me and my family; our taste and lifestyle, things that tell a story.
My journey with The Wise House has brought these issues to the fore. I've unearthed a passion for beautiful things made by lesser known creative brands, often using traditional methods of production. The truth is that I want to jump off the mass market bandwagon, and encourage others to do the same!
The good news is that we are seeing a move back towards the idea of the designer/maker and the preservation of traditional skills. There is now a big Craft section at the Top Drawer trade show for retailers like myself, and the rise of websites like Not On The High Street, Etsy and Folksy have all done their bit to champion small creative businesses.
A customer who gave her friend one of our Hokolo Tote Bags for Christmas (London designed and made) was told by her not only that she loved it but how pleased and surprised she was to receive something made by a small UK company that she hadn't heard of before.
I'm absolutely not against overseas manufacture per se; many brands are now focussing more on ethics and sustainability. We stock products from companies like Basket Basket and Nkuku, who work with families and fair-trade organisations overseas to protect the amazing skills of artisans. It is the nature of the 'mass-produced' that can mean that the quality is poor, the ethics are questionable and there is a big distance (both rhetorical and physical) between the designer and the end product.
My hopes are that a balance can be struck, at home and abroad, so that whilst we will always buy mass-produced goods, we will also make room for well-made, quality products with their own personality, that will last a long time, if not a lifetime. In the end, we have to be savvy enough to work out which offers the better value.
Below I speak to two of our wonderful British suppliers; Vic from Mac & Ninny Paper Company and Megan from Megan Alice England, to find out more about what it is to be a designer/maker and the process they go through in order to make their products.
Who are you and what do you make?
Vic
Hi, I'm Vic from Mac & Ninny Paper Company. My husband Tony and I launched in January 2012 with a range of contemporary bookplates and jam jar sets. This year we've expanded our range to include coasters and planners.
Megan
I'm Megan, the sole creator of the gifts and homewards brand Megan Alice England.
Where do you make it?
Vic
We have a workshop in an old match factory in Gloucester where all our stock is held along with our vintage Heidelberg windmill press.
Megan
I work from home. I have converted the garden room into my studio/workshop. It's a small space that has to be multifunctional due to the number of different roles I have to undertake as the only employee of my business. The products are designed, screen printed, sewn and packed up for the customer all from this room.
Where does it all begin?
Vic
Inspiration can come from anywhere – looking in the mirror created the beard-day cards, childhood memories of hot summer holidays led to the ice cream cards and stumbling across old books or patterns can give you the spark to create something different.
Megan
I am inspired by the everyday for both my designs and products. It's great to take practical objects and give them the Megan Alice England treatment. I love drawing animals, flowers and everyday objects to create designs that make people smile.
How do you go about getting it from head to reality?
Vic
We usually share ideas that we have and how we think they could work. Then Tony will draw up scamps to see what sort of illustrative style would lend itself to that idea – whether it's words or pictures, there's always some creative sparkle to add. We'll then go through the scamps and discard those we don't think will work and then focus on those that we think will.
We discuss possible colours, stock, sizes etc and then Tony will then design and illustrate the visuals. It's always amazing to see an idea come to life this way and you can really start to see how the finished product will look.
Megan
I usually go about this by making several samples until I am pleased with the outcome. The more experience I have the easier it is to turn ideas into reality. I love trying out different prints in different colours on different products. It's always so exciting to see the finished product.
Are there any limitations?
Vic
Choosing the paper material is always fun – we request lots of samples that we rub between our fingers and umm and ahhh over – picking the right shade of stock to show off the design and make the colours pop is important; as is ensuring its quality as well as its being ecologically sound.
We have an extensive range of inks which we mix by hand so we can get the colour we're looking for absolutely spot on. Also, as we print everything by hand, we can experiment with different colours to see what we think works best.
Megan
I can only print on a small scale so am only able to make products of a certain size. It would be fantastic to print on a larger scale so that I could produce curtains and bed linen. I think they would be great. (So do I!-Lucy).
Are there ideas that don't make the grade? Can you give us an example?
Vic
We've been toying with an idea we have for notebooks for a while. Whilst we have a great design idea, we haven't quite developed a cost efficient way of producing it on the letterpress so for now, that idea is on the backburner. But we keep returning to it in the hope we'll find a way!
Megan
Sometimes there are. There are a lot of factors to consider when creating a new product so you don't get it spot on every time. Luckily I have the chance to make improvements and develop my products if they are not selling as well as I would like.
What materials do you use?
Vic
Mainly paper with a high cotton content. This allows us to get that lovely tactile letterpress feel.
Megan
I screen print using eco friendly non toxic water based ink onto natural fabrics including cotton, linen and calico.
How do you choose/ mix your colours?
Vic
Tony loves experimenting – sometimes we'll try some neon, other times something more muted. You get a very different look depending on the colours you use. Sometimes it's fun to play with conventions – contemporary designs but more traditional colours and vice versa, just to see how it looks.
Megan
I am a huge fan of colour so use a broad colour palette. I don't follow trends, I just pick colours that I like and hope other people will too. All my inks are hand mixed to my own recipe. I use weighing scales and an electric hand mixer to ensure I keep my inks consistent. You can watch a video of this if you click the link below.
How do you get your designs from paper to press/ print?
Vic
We have two amazing suppliers who specialise in letterpress printing: one for plates and another for cutters. They're also great at offering advice too – which is always appreciated.
Megan
To screen print my designs on to fabric my designs have to be exposed on to silk screen using light sensitive emulsion and a very strong light source. I expose all my screens myself. There are lots of videos on youtube that explain this process if you would like to learn more.
What machinery do you use? How many people does it take to operate it? How/ When did you learn to use the equipment?
Vic
We have a 1962 Heidelberg windmill press which we purchased about ten months ago. It was a massive leap of faith as neither of us had ever used one before but we had a great teacher who spent a day teaching us how to maintain and use the machine. It only takes one person to operate it – Tony. Although two when he gets his hand trapped and needs to be released!!
Megan
I use lots of equipment to make my products including my iMac, printer, exposing lamp, silk screens, squeegees, iron and sewing machine.
I learnt the technique of screen printing when I was studying for my degree (2004-2007) and then went on to learn more when on a work placement in Melbourne, Australia (2010).
Your designs are now printed on paper/ fabric. What comes next?
Vic
Once printed, they are then put through the press again for cutting and creasing and finally folding. They're then checked, packed and barcoded.
Megan
Once my fabric is printed I have to heat set the inks using an iron. This means the inks will not run when they are washed. I then sew all my products myself using my heavy duty singer.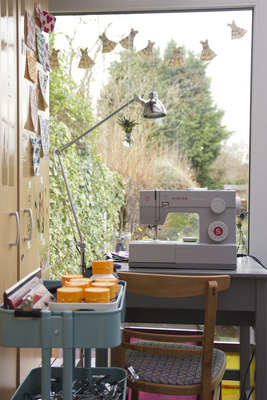 How do you go about ensuring the final product is as you want it?
Vic
Because the whole process is managed by one person, from design to production, it's very easy to ensure that the design is absolutely spot on.
Megan
My products are made completely by myself alone which means I can ensure each item is given the attention that it requires. This means I can keep the standard of each product consistent.
What's the best bit about making your own designs?
Vic
I love seeing the final product. When you see flat visuals you think, yeah, that looks good. But when you hold that final printed product in your hand, it always looks so much better than you expected. You get quite excited, especially when you're bringing new stuff to shows and you receive positive feedback from buyers.
Megan
When it comes to the making process the best bit is without doubt is when I lift up the silk screen to reveal my design, it's always so exciting.
I love seeing the customer's reaction to my product range. It's always a good feeling knowing that people like the work you are producing, especially when they are willing to part with some money!
What's the worst bit of the whole process?
Vic
When you think you've had a great idea and the design is good, the pricing competitive and for some inexplicable reason it just doesn't sell.
Megan
Definitely the sewing!!
How important is it to you to have input from beginning to end?
Vic
We are very lucky, we have total control on everything – design, print, marketing and sales. Having the Heidelberg means we can tweak a design or colour fairly easily if we don't think something is working as well as it could.
Megan
I'm a bit of a control freak when it comes to my work so I guess it's ideal that I can make changes whenever I feel it's necessary.
Do you think there will be a return to homegrown products and manufacturing?
Vic
I hope so – having just returned from Top Drawer you could see a huge range of designer / makers which some amazing and unique products. Whilst mass produced goods will always have their place, I'd like to think that beautifully designed, home grown products could sit alongside them and that customers will appreciate and value them. Afterall, imagine how boring our lives would be if we all bought the same things!
Megan
I think to some extent there already is. There is a definite trend on television and in magazines at the moment encouraging people to give making/growing things a go. There are also more shops and websites popping up that only stock handmade/British products but it's hard to say if this will continue. Fingers crossed it will!
Thank you to Vic and Megan for talking to The Wise House. Their passion for the products and the hard work that goes into making them is both humbling and inspiring.