Christmas Shopping Evening Take 3
Posted on
In the blink of an eye, another year had passed by and it was time for me to host my 3rd annual Christmas Shopping Event at my humble abode.
For the uninitiated, I turn my home into a pop up shop, with all of my products laid out 'in situ' and available to purchase. Customers are able to browse with a mulled wine and minced pie in hand, and it has become a bit of a social occasion in these parts (Hampton & the surrounding areas)!
Having gone from around 30 products in Year 1, I now stock over 300 products. Our biggest challenge was finding a place for everything. We transformed the entire ground floor (I make that sound grander than it is, that's 2 rooms) into a festive scene, complete with Christmas Tree, garlands, twigs and paper snowflakes. We even extended it to the decking out back, with a chimnella burning to keep the punters warm.
One of the 1st floor bedrooms was also turned into a shop, selling all of the gorgeous new products for children like paper garlands, notepads, storage boxes and handmade rabbits to name a few. My daughter, Rose, became self appointed personal shopper for this area.
I enlisted the help of 6 friends and a hubby (mine) for the superhuman task of 'moving out' of my own home and 'moving in' all of the new stock and props. Think 'Changing Rooms' type scenario, with me as Carole Smilie, although I didn't feel that 'smilie' after the hundredth trip up and down those stairs from the loft!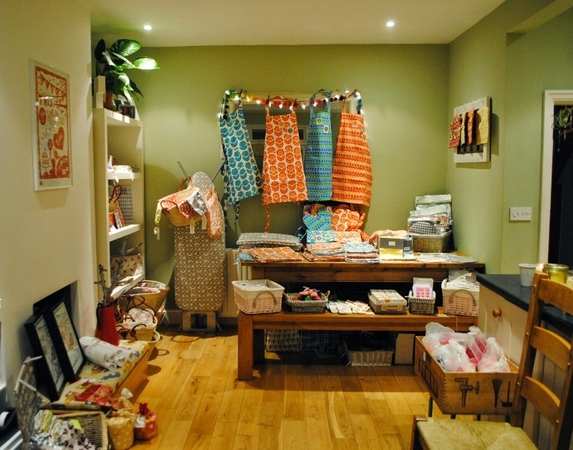 My friends took the task on with aplomb, carrying boxes hither and thither, unpacking, sorting and displaying. There was even the odd occasion (ahem) when they had to politely request a cloth for the cleaning of areas untouched my human hand in recent months (since last years event?).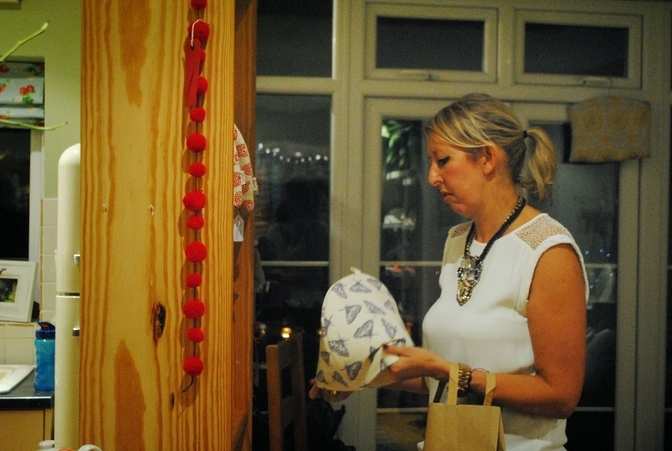 With kick-off at 6:30pm we just about got the house looking shipshape, with only one last minute panic over battery powered fairy lights. (Yes I DID need that extra one of the olive tree out the front and yes it WOULD have impacted the evening not to have had it…).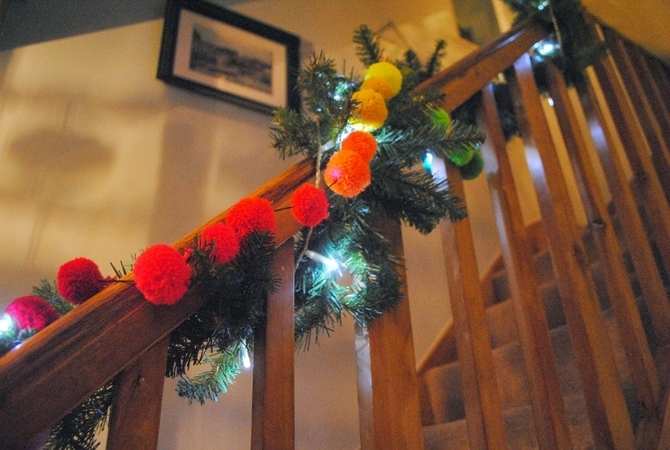 The doors opened and over the following 4 hours over 50 people came along. The atmosphere was lovely and there was a nice even flow of people so that it didn't feel too packed in any one room.
My able and long suffering friend Babs 'manned' the tills, I set her up a special little area this year which she seemed delighted with. She even had her own notepad, pen & calculator. No one can say I don't look after my staff ;-).
I found a wonderful caterer in the form of my other friend Ann, who, it turns out, mixes up a mean Mulled Wine. ('More brandy = more spending' – I'm with you all the way Ann).
There she is, there's Ann, on the right with my friend Clare who 'enjoyed' the Mulled Wine alot.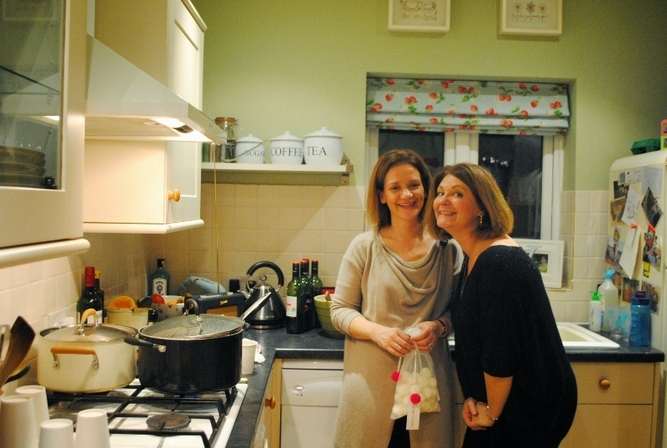 With the kids and house rabbit safely ensconced upstairs (the latter slightly traumatised by this invasion of his home), the night continued successfully with lots of sales and people making a big dent in their shopping list.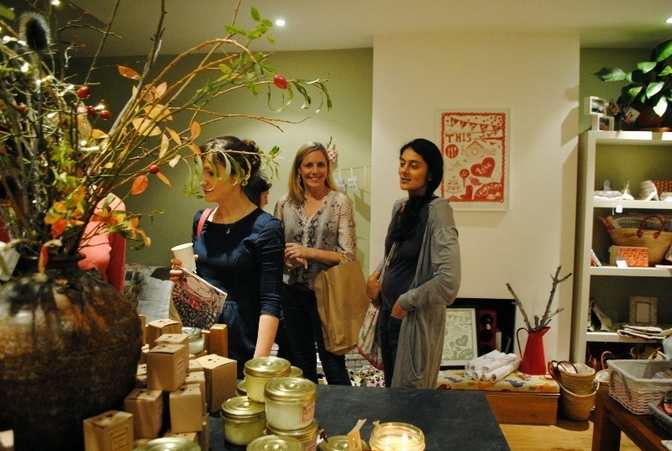 I was delighted at the popularity of all of the new stock from France; tea towels, trays, storage boxes, clutch bag. Other big sellers were the Christmas Sacks, Kiko Frames, Snowflakes, Candles, Make Up & Wash Bags, Aprons and there was even a 'fight' over a string of blue pom poms!
The night was a great success. The rabbit is now back where he belongs, but I haven't quite managed to take the Christmas tree down yet. Maybe I could just leave it there until the big day…
Tilla The House Rabbit Enjoying The Faux Festive Scene