"To cosy or not to cosy, that is the question?'
Posted on
It's been a few years since I wrote the blog below, and since then loose leaf tea has come back into vogue! Not least due to the fact that we now know that most teabags contain plastic. Bit of a surprise to most, especially those of us who have been happily composting away and spreading plastic infused compost onto our gardens! One way to avoid this is to get a teapot and use loose-leaf tea. For a tea pot, you need a tea cosy - expecially as the tea takes a few extra minutes to brew. Hence, in our house since the advent of loose leaf tea, the trusty tea cosy has come back into play.
In line with my quest for delicious loose leaf tea, I came across a small online tea company called Brighteas, who do a fantastic range of flavoured tea; from breakfast tea (in their Classics collection) to the House of Wessex (anyone watch 'The Vikings?!) Great Blend 'Rich and malty with sweet honey and roasted notes'. They also do a special brew for birthdays!
Brighteas have very kindly donated a packet of their Brighteas' Breakfast Blend to our prize giveaway, to which we have added one of our lovey padded tea cosies (see bottom of post). Please do have a read of the blog, and comment either at the bottom or on FB to let us know whether you 'cosy, or not cosy'. A name will be drawn at random on the morning of Friday 15th June.
"To cosy or not to cosy, that is the question?'
I posed this question to my Facebook friends recently, thus provoking conflicting opinions on the matter;
'I own one but don't use it'
'Absolutely' (read, what kind of social degenerate is it who doesn't?)
'Afraid not. Think it is probably a generational thing and stops at our parents generation....' (read, what kind of social degenerate is it who does?)
'Yep! We all do in my fam'
'No, but I would like to'
There do still seem to be plenty of people who like their tea brewed in the traditional way. I own both tea pot and tea cosy which I don't use everyday but do unveil for special occasions; Saturday mornings (always a relief to reach this milestone in our house) or when friends are visiting for a cuppa and a catch up.
My friend Lucy bought me the 2 beautiful Wedgewood Cups & Saucers pictured below. Only pot brewed and cosied tea makes it into these bad boys, whipped out in times of deep and meaningful conversation.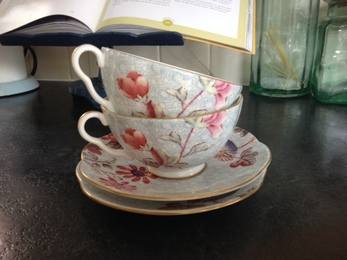 So how did the tea cosy come to be so popular in Britain? The tea cosy was first introduced in the 19th Century, when the Duchess of Bedford popularised the concept of Afternoon Tea as an activity to entertain affluent (presumably rather bored) women. The host was responsible for pouring the tea but what with all the time spent networking and gossiping, the tea would often go cold (I've been there. But without the help of house staff).
Enter…the tea cosy! A functional hat to keep you tea warm for up to 3 hours.
Fast forward to the 20th Century and going for Afternoon Tea with the girls is still very much in fashion, as is the gossiping. We also have the likes of the Macmillan Coffee Morning on 26th Sept (ok coffee but there will still be lots to tea served!).
Incidently, I've been to The Ritz for Afternoon Tea with a group of girlfriends. Myself and my friend Emma were rather shocked to be refused entry, due to our non regulation outfits. Luckily my friend had her wheelie case with her so we had to do a quick change in the toilets (not so very ladylike). I had shuffle along to afternoon tea with shoes on that were 3 sizes too big and Emma had to wear a rather posh dress she'd bought for a wedding the next day! High society indeed.
Tea cosies now come in all shapes and sizes. In researching my blog I came across a book entitled 'How Tea Cosies Changed the World' wriiten by the Guru of tea cosies, Loani Prior. I borrowed her book from the library and it is honestly one of the funniest things I've ever read (who knew?!). She is absolutely hilareous, as are some of her tea cosies. I want to share with you a few of my favourite cosies from her book.
Gone Feral (words cannot express)

Betty The Burlesque Dancer

Daffodil Cosy - created for Cancer Research Morning Tea in Australia

Devilish

Loani Prior
If you need cheering up, or want a giggle, I do recommend this book. Here's a taster;
'Teapots come in all shapes and sizes. You could always make the cosy and find the pot to fit, but your favourite teapot will stay there cold and naked. Not a pretty sight or a happy situation for a teapot to be in.'
I think Loani's wise words are very true; 'There seems there is a tea cosy for everyone! Even my least favourite cosies (yes I do admit to least favourite) are loved by someone. The world would be a very boring place if we all liked the same thing.'
Our new tea cosies certainly aren't as comical as those pictured above, but they are designed for modern women who like their tea brewed the old fashioned way. Now, time to put the kettle on...
Please do comment below 'To cosy, or not to cosy' plus any other tips for healthy tea drinking. Your name will be entered into our Prize Draw, with a winner picked randomly on Friday 15th June. The prize is one pack of Brighteas' Breakfast Tea plus a grey moth tea cosy, as pictured above.