London Underground Poster Campaign With Microloan Foundation
Posted on
Once in a while an opportunity presents itself that you would have to be a fool not to take advantage of. This was the case with Microloan Foundation's ingenious London Underground Poster Campaign, giving 200 female small business owners in the UK the chance to buy an advertising spot on the London Underground at an affordable price and have their very own poster designed by top agency DLKWLowe.

The £100 that each company paid for their poster will be used to help fellow female entrepreneurs in Malawi and Zambia, giving them a chance to start their own small, sustainable business and lift themselves out of poverty.

Luckily for myself and The Wise House, we managed to secure a spot at one of these (as yet) mystery locations on the tube network. I wait patiently for someone to find the poster whilst on their travels around London!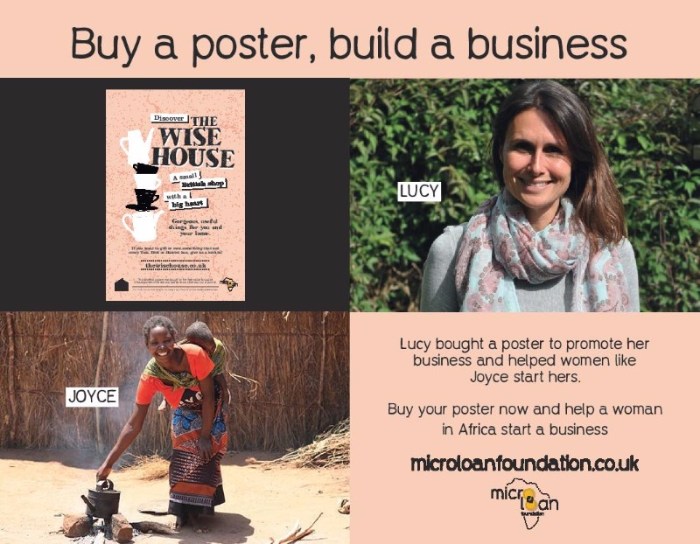 In becoming part of this campaign I started to read up on the Microloan Foundation and find out more about the work they do. What I love about this charity is its clear and concise vision 'we believe in giving hope, not handouts' and the incredibly practical way it goes about helping women to set up their businesses (as a 'doer' this appeals to me hugely).

It all starts with finding women in isolated rural areas who express a desire to start their own business and raise money for their families; for food, clothing, medicine and education. The women form working groups and are given business training on areas like managing money, market research, and business planning. They are given a small loan to set up their business; with businesses typically ranges from market stalls and bakeries to small holdings and second hand clothes shops. Training and mentoring continues to help them along the way.

As their businesses start to grow the women pay back the loan, and the money is then used to make more loans (an impressive 99% of loans are repaid). There is a real focus on ongoing teamwork, partnership and the community. There is so much that businesses in the UK could learn from how these wonderful women are mentored and about how they all support each other.

'The group sessions are a joyous occasion, starting and ending with singing and dancing'

The many individual Success Stories shown on the website are a joy to read and the women obviously love what they do and are thrilled that in many cases they can now afford to send their children to school. This success story is about Joyce, who has set up a small business in the village selling tea and bread. Joyce and her husband are saving money so that they can build a larger house to fit their family more comfortably.

Joyce's Story
I feel a real affinity with these women. We're not so different, after all. Many of us are not in it to get rich quick (or at all) but want to be able to be there for our families, do something we enjoy and contribute to the family pot.

Microloan's research found that when a woman generates her own income, she is likely to re-invest 90% of it into her family and community. What a powerful and thought-provoking statistic. Microloan's simple, insightful approach helps people to improve their own lives and those of the people around them and I think it's an approach which could be applied within communities across the world.
We're running a competition to see who is the first to spot our poster (as seen above). The first person to spot, identify station and share a pic wins a Parisienne basket!