Brown Paper Packages Tied Up With String
Posted on
I enjoy sending out orders all the more by wrapping everything up in brown paper and tying it up with string. And when I say string, it has to be Nutscene Twine (with most people it's shoes or bags, I'm a sad case!). They have a great website: http://www.nutscene.com/store/category.vc?categoryId=4 and I love their heritage range of twines in different colours. So much so that I treated myself to the blue and orange twine as well as a...wait for it...Salvaged Mill Bobbin Twine Holder, as pictured below.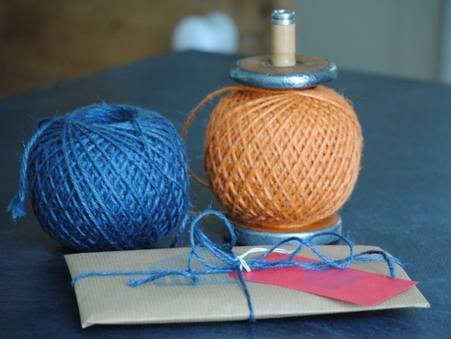 There it is sitting next to a little parcel all ready to go. What makes it all worthwhile is when we get a lovely bit of feedback:
'Thanks so much for the parcel. As usual it was packaged brilliantly and your attention to detail is absolutely superb. The French Tins are fabulous, just got to find them their own little niche in the kitchen to show them off.
Many thanks, and keep up the good work.'
It seems I'm not the only one to appreciate a wee bit of brown paper packaging: