I love my new owl lampshade
Posted on
You may be wondering how come I am here writing this when I am meant to be on hols? (You probably arn't actually but anyway...). We were going to head down to lovely Southwold to stay in the caravan but the prospect seemed slightly less attractive when the weather changed, with a balmy 4 degrees and rain forecast for most days. And as anyone who holidays in that part of the world knows, the wind chill is about minus 10 degrees down there at the best of times. So after visiting family we trotted back to Hampton where the sun seems to be shining against all the odds!
My parents took charge of the children for a few days which gave us a chance to decorate our boudoir. The painting was actually quite enjoyable (helped by the prospect of a trip to the pub minus the kids later in the day) but wallpapering is not good for marital relations. I can't believe how difficult it is to do! You could have cut the atmosphere with the stanley knife when one of the sheets ripped as we hung it up. And we ran out with just a tiny bit to finish (actually it was a relief to stop). But, the end result is very nice even if I do say so myself. An owl lightshade finishes the room off perfectly, here's a piccy: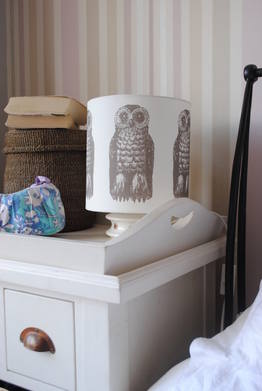 Tomorrow I'm off to pick up the new lavender hearts including 3 differents sets of 3 designs and the single Union Jack lavender hearts - I'll take some photos quick smart and add some pics to the website.