5 Wise Tips For Reusing Everyday Waste - Trash to Treasure
Posted on
Trash to Treasure - 5 Wise Tips For Reusing Everyday Waste
Coffee grounds in the bottom of the filter, breadcrumbs atop the chopping board, not-quite-but-nearly empty jars in the cupboard and bacon fat in the grill.
These are regular happenings in our house, often ignored for as long as possible before being thrown or washed away (usually by me, guvnor and 'martyr'). A dirty jar can go a good 24 hours next to the sink 'unseen'.
What if I could save you the whole faff of dealing with these awkward waste products by turning them into something useful; saving you time, money and family arguments in the process?
Here are 5 simple everyday waste hacks that you can implement RIGHT NOW!!!
1. COFFEE GROUNDS
We're not coffee drinkers ourselves, but the cafetiere does get a dust off for guests.
Throwing away a sizeable heap of coffee grounds alway seems like a waste so I decided to investigate alternative uses. It turns out the grounds work brilliantly for cleaning!
The coarse texture makes them ideal for scrubbing any kind of household surface; from pots and pans to worktops and sinks in kitchen or bathroom.
The coffee cuts through the grease really nicely, leaving no residue and doing a great job on the oily bath ring that Rose and I leave behind after we've bathed (caused by oil-infused bath salts, not dirt!).
I mix with warm soapy water and apply using one of the Wise House coconut scourers or loofah pads.
Coffee also neutralises odours and can be used as an alternative to bicarbonate of soda. You can put an open container of used coffee grounds into the fridge, or sprinkle into the bottom of the bin, and strong smells will be diffused.
Store the coffee grounds in the fridge or somewhere cool until ready to use.
OTHER USES FOR COFFEE GROUNDS
Sink & Plug Hole Unblocker - Like Bicarbonate Of Soda, you can pour coffee grounds down the sink, and rinse through with boiling water to remove and dissolve blockages.

Natural Face Mask - There are plenty of natural face mask recipes online, including the following with just three simple ingredients.

Combine coffee grounds, honey and milk (dairy or non dairy) into a paste and apply to your skin. Leave for 20 mins before rinsing off, and voila…apparently puffiness is reduced, and your skin will look toned and glowing.
2. BREADCRUMBS
There is a constant stream of bread eating in our house, which brings with it the constant presence of breadcrumbs on the worktop.
Rather than constantly to-ing and fro-ing to the food bin, grab a tupperware and keep it nearby. You can then scrape the breadcrumbs straight into the container throughout the day, ready to be used for meals.
Why go to the trouble of making or buying breadcrumbs, when you have a constant supply right in front of you?!
I regularly mix oil, vinegar and grated cheese into the morning stash, before sprinkling onto my lunch.
Enhance your own sprinkles with whatever you have in the cupboard; whether herbs, garlic, lemon zest or spices. Bulk out with grated stale bread or ground nuts (almonds and hazelnuts work well), if you want enough to fully coat meat, fish or vegetables.
The better the quality of bread, the better the breadcrumbs. If you like a good quality loaf, then all the more reason to hang onto every last crumb!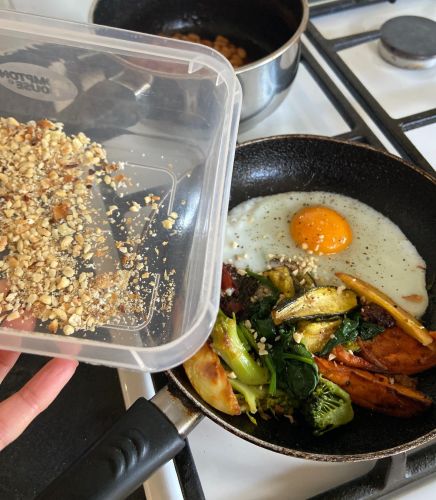 OTHER USES FOR BREADCRUMBS
Add as a bulking ingredient when making meatballs, burgers and fishcakes.
3. NOT-QUITE-BUT NEARLY EMPTY JAM JARS
No one, but no one, enjoys dealing with a jar that is practically empty but still contains the dregs of its contents. We usually have at least two strawberry jam jars of this persuasion in our cupboard, as a combo of guilt (it's not quite used up) & laziness (really difficult to wash up so easier to leave in situ) prevents anyone from actually dealing with the jar.
Suffer no more! Soon you will be actively seeking out these jars…for easy-to-make marinades and dressings. In the case of condiment jars; simple squeeze in some lemon juice and white wine vinegar, add a dash of olive oil and soy sauce and you have a sweet and sour sauce ready to go!
You can use anything in your store cupboard, and this works just as well for all sorts of jar leftovers; from yoghurt to peanut butter which is particularly difficult to wash out of the jar. My tip for peanut butter is to add boiling water and half a stock cube, before adding to a one pot dish (which was a sausage casserole for me last night).
A shake of the jar and all of the dregs are mixed into the sauce. Nothing goes to waste, and nothing gets washed down the sink. A win win on a quite magnificent scale.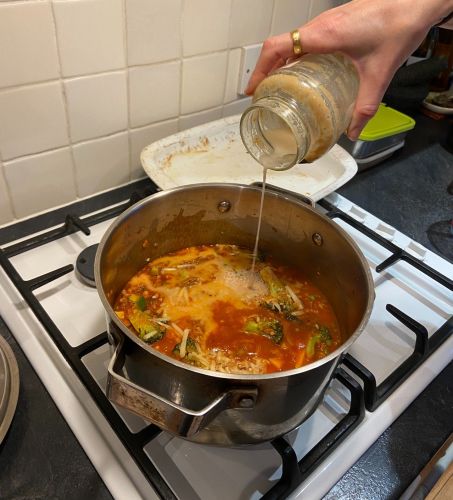 OTHER USES FOR JAR DREGS
4. BACON FAT
We love a bacon sarnie in this house, but we definitely don't enjoy cleaning up the fat from the grill tray afterwards.
The answer - keep and reuse the fat. It has all of the deliciousness of the bacon infused in it, and can be used in the same way as oil and butter as the base for cooking.
Thus far, I have tried it for roast potatoes and for frying eggs and mushrooms for lunch. The potatoes were crispy and delicious.
Use a spatula to scrape as much of the fat away from the grill (or pan or oven dish) as possible, and put into a pot or jar to keep. I find a silicon spatula works brilliantly for this.
This technique removes most of the fat and oil from the pan, making it easier to wash up. It also means that less fat goes down the plug hole, saving our sewers from fatbergs!
Washing up is made easier, and you are reducing the amount of fatty grease that inevitably ends up being washed down the sink.
OTHER USES FOR BACON FAT
5. PICKLE JUICE
After fishing out the last gherkin or olive (household favourites) the pickle juice is usually poured down the sink, with narray a second thought.
However, on my trash to treasure journey I dicovered that pickle juice can be reused for all sorts of things. Made from water, salt and distilled white vinegar, with a hint of the flavour of whatever was pickling in it, the pickle juice can be simple 'passed on' to any vegetables that you may have a glut of.
My first pickling experiment was with carrots. After slicing them into batons, I added them to the pickle juice and left them for a day, before further adding soy sauce, sesame oil and lemon juice, and adding to a stir fry. It gave the carrots a soft crunch and enhanced the flavour of the dish overall.
Anything pickled can be popped back into the fridge and used as you please, for snacks, salads or in sandwiches.
You can also use the pickle juice as you would any other vinegar; adding to dishes or mixing it with hot water for a very healthy drink. Vinegar is said to soothe muscle aches and cramps, and help nurture good stomach bacteria.
I find it a great morning pep-up, when I manage to talk myself into drinking it instead of a cuppa!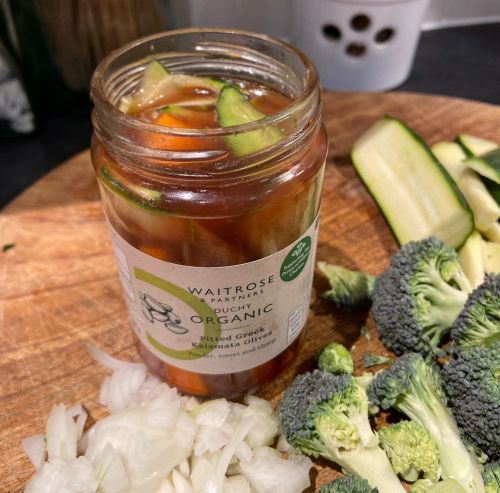 OTHER USES FOR PICKLE JUICE
Make a simple dressing by adding with olive oil

Use in place of wine for deglazing a pan

Pickle fresh fish like cod 'ceviche-style'. I love the idea of this, sounds delicious!
References
https://www.yummly.com/dish/128928/clever-uses-for-that-leftover-pickle-juice-in-the-jar
Thank you for reading my latest blog. If you comment on the website at the end of the blog, you will be entered into a Prize Draw to win a bottle of Neat Cleaner, a Cloth and a Loofah Sponge.
Enjoy 10% off the whole cleaning range with code TRASHTOTREASURE.