Insects In The City - Encouraging Wildlife Into Towns & Cities
Posted on
Why Does Biodiversity Matter?
Biodiversity is in some ways very simple; it's the web of life of which we are a part. It's the air we breath, the water that we drink and the food that we eat.
Biodiversity is also very complicated. Even the most clued-up scientists have only scratched the surface in terms of understanding the finely balanced system, with its countless interactions, that makes up our 'Perfect Planet'.
"Biodiversity is the most complex feature of our planet and it is the most vital. Without biodiversity, there is no future for humanity," Prof David Macdonald, The Guardian 2018.
Biodiversity loss is now thought to be the single biggest threat to humankind, more so than climate change (yet receiving far less media coverage). Species numbers are plummeting at an alarming rate; from large mammals to birds and bees right down to microscopic creatures at the base of the food chain.
Our disconnectedness from nature makes it harder for us to grasp why biodiversity matters. Start talking about soil microorganisms in a conversation about fake grass and people may think you're a bit bonkers (my friend Suze got three laughing faces on social media when she did just this!).
We've been brought up to be scared of 'creepy crawlies', to see wildflowers as weeds, and bugs as pests. Children (and many adults) often don't know where the food they eat comes from, or how it is grown, let alone that without those pesky bugs food crops wouldn't grow at all.
As inspirational youth conservationist and president of Black2Nature @birdgirlUK Mya-Rose Craig says;
"The biggest hurdle to be overcome is the fact that people cannot truly care about something they know nothing about. However, as wildlife and nature decline, so do the opportunities to connect with it." Wicked Leeks, 2021
Insects In The City
The good news is that our streets, parks, open spaces, schools, buildings, disused brownfield and industrial sites and grass verges all have the potential to provide habitat high in biodiversity.
Wildlife has evolved to need structural complexity and diversity, and the city has this in spades. It just needs passionate and knowledgeable people to help create spaces like growing roofs and community gardens.
This blog post shares some of the inspiring movements and projects that are taking place, that demonstrate how we too can get involved.
Biodiversity & Growing Movements
Guerilla Gardening
As the 'Gangsta Gardener' Ron Finlay himself says, 'Plant some shit', and guerilla gardeners do just that; in council managed and abandoned flower beds, grass verges, parks and the like.
The charismatic Finlay is one of the movement's most vocal proponents (check out his TED talk), having transformed his local neighbourhood by harnessing the passion of local residents to create a productive space out of previously barren areas;
'In LA you can't find a fresh apple without a long car drive. His reaction? To pull up the littered turf outside his house and plant it up with banana trees and sunflowers for the neighbourhood. ' Guerilla Gardening, A Report From The Front Line - The Guardian
We have our own Guerilla Gardeners in the the UK, like Richard Reynolds;
"Operating from Elephant and Castle in London, he sneaks out late at night and sows seeds in tree pits and on roundabouts, colouring up unwanted places. His delivery puts the people right at the core of all this blooming concrete.' The Standard, 2016
Abundance London, featured recently on Gardeners World, work with volunteers to transform community spaces into gardens; growing trees, hedges, fruit and wildlife friendly plants.
Depave
Depaving, which is exactly what it sounds like, is supported by forward-thinking councillors such as East London's John Burke who recently secured funding from the Mayor of London for a Depave project in Hackney;
'It would be great if we were allowed to depave and replace hard landscaping with edible hedging and nature-enhancing plants – on street corners, in car parks, between buildings, the edges of pavements, private gardens and on estates.' (John Burke, Yes Mag, 2019)
More Than Weeds
Burke has also lent his support to the More Than Weeds movement in Hackney, inspired by the wonderfully named French campaign ''Sauvages De Ma Rue "("Wild Things Of My Street"). Botanist and campaigner Sophie Leguil has now gained permission for the (previously illegal) act of labelling wildflowers in pavements cracks and on walls with chalk.
"I've been wanting to do it on a larger scale, with permission, and I hope to get more authorities interested in creating trails. We talk a lot about plant blindness – what if putting names on plants could make people look at them in a different way? I despair at how sanitised London has become. Plants can be managed differently, with benefits – cost-saving, biodiversity, education." The Guardian, 2020
Hackney Council has now gone pesticide-free in some areas and halved its use overall to increase wild flowers and boost insect biodiversity,
"It is absurd that this chalking of plant names is criminal. It is something we welcome as an important and inspiring teaching tool for adults and children. How else will a kid ever know these names? The vocabulary of the natural world helps us access it, love it and desire to protect it." The Guardian, 2020
I find it shocking that spraying is routinely carried out on streets and in parks, particularly as urban areas are already suffering the effects of pollution. Hopefully we will follow France's lead where pesticide use in parks, streets and gardens is now completely banned.
The Poppy Estate
Under the leadership of a local councillor a very different kind of land management company has been appointed to look after the Clapton Park Estate. John Little, of the Grass Roof Company, is a pioneer (and personal hero of mine) in creating and managing public spaces that people can engage with and actually use. He was brought in to transform this housing estate in East London.
Little recalls how at the start of the project he discovered that one resident, Fatima had been doing a spot of guerilla gardening by planting coriander underneath the council's neat shrubs. He then focussed all of his efforts on what this diverse community wanted from their garden. The result is a communal herb garden which reflects the culinary tastes of the diverse residents: grape leaves for Turkish dolmas, mint and oregano for Kurdish dishes, and coriander and thyme for West Indian cuisine.
"If you could see for years what we had to look at across there," Ahmet says with a grimace. "Gradually now though we're getting more mums sitting under that side with their kids, sitting and eating their dinner - they never used to do that." The Ecologist, 2012
The since nicknamed 'Poppy Estate' was transformed into a productive space with 50 growing plots, over 250 fruit trees and bushes, herb beds, community gardens, wildflower railings, native trees and shrubs, and green roofs and insect hotels. A beautiful, thriving place that everyone can share and enjoy - I shall plan a visit!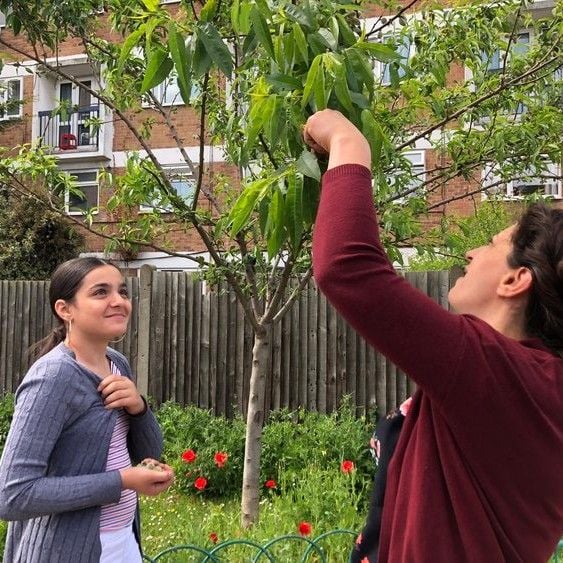 Residents picking almonds. Photo from Grass Roof Company.
Energy Garden
Energy garden is a charitable initiative that helps communities turn disused spaces in overground stations into solar powered green spaces where local residents can grow fruit trees and vegetables, and where beehives & hedgehog houses are installed to encourage wildlife.
"We need to have wild spaces and incredible ecosystems that are green and beautiful, so that you want to live in a city because it's just as healthy as the countryside. Every station garden is a reflection of the community that lives and travels there" Founder Agamemnon Otero, I News 2021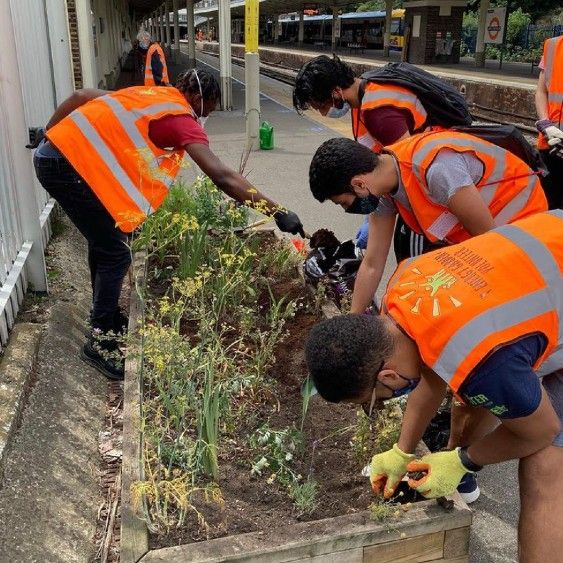 Photo from Instagram @energygardenldn.
There are similar initatives popping up internationally, like Pocket-Sized Parks in Athens, that are helping to combat pollution and mitigate the extreme heat for its residents.
School Growing & Wildlife Gardens
The Dasgupta Report is a first-of-its-kind UK government commissioned report that outlines the threat of biodiversity loss; giving recommendations on how we need to change our economic and societal model to tackle the problem (fascinating report that hardly garnered a mention in the press!).
One finding is that teenagers are the least engaged in wildlife (particularly if they have a mum who is an eco geek), and suggests that education on Ecology should be introduced into the National curriculum.
The good news is that schools, particularly at primary level, are creating their own nature gardens; where children can help to grow vegetables, and study the abundance of wildlife that appears when you have habitats like a pond. I spotted wood piles and bee hotels on my walk past our local school, all of which help children to connect with wildlife.
As I understand it, it is largely left to teachers to introduce conservation issues across different subject areas, such as science, geography and PSHE. The Harmony Project, led by Richard Dunne (watch his brilliant TED talk), is helping educators to do just this - focussing on helping young people to connect and have a deeper understanding of the natural world. It would be wonderful to see biodiversity become a core part of education, from infant to senior school level.
Allotments are also starting to focus more on biodiversity. On my friend Alix's allotment in Walton, a family friendly area called 'The Community Allotment' has been created. It's a completely charming space; with old wheelbarrows planted up with wildflowers, wildlife ponds and supersized bug hotels using reclaimed materials.
Schools and scout groups are invited to visit, and Alix has noticed fellow plot holders embracing nature with log piles and bug hotels. Her own lovely patch features a wildlife pond complete with frogspawn for the first time this year!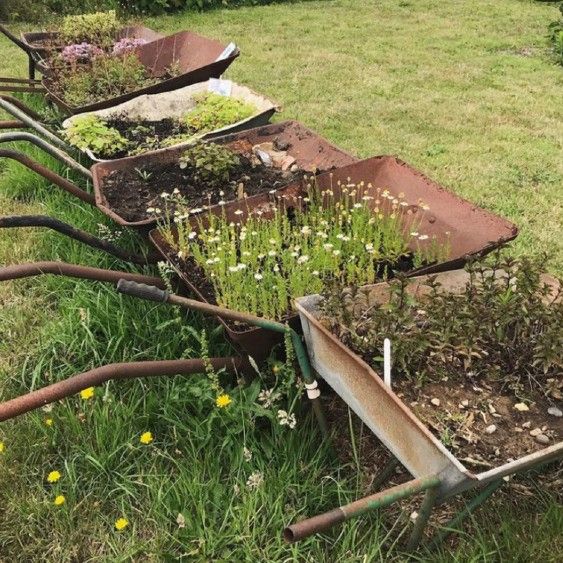 Urban Buzz, run by the UK's brilliant and only dedicated invertebrate charity, is aiming to turn Cardiff University into a bee-friendly campus, with the campaign having spread to the wider community in the form of initiatives like wildflower grass verges and road embankments, and the installation of bee hotels and bat boxes on city streets. Anyone who is anyone will have an insect hotel in their garden by 2022, I'm telling you :-).
Wildlife Charities in the UK
Councils are now supporting the creation of Friends Groups, which in turn are supported by charities like the Wildlife Trust and Habitats & Heritage. The result is that local parks and green spaces are starting to see more of a focus on conservation in the way that they are being managed.
One fantastic example local to me is Crane Park in the Borough of Hounslow. My local butcher told me that this isn't a park that you would have rushed to with a picnic 20 years ago. Now it is an eco park, endorsed by local resident David Attenborough no less!
The London Wildlife Trust, working with the local council and community volunteer groups, has turned it into 'a park designed to encourage wildlife'.
I only discovered it recently and was totally bowled over by how beautiful and wild it is. There are coppiced fences, brash piles, mangrove-like areas, bird and bat boxes - a huge variety of habitats across a relatively small area. The Crane River runs through the middle, and on the four visits that I've made so far, I've seen a Kingfisher three times (and have done an unbearable amount of showing off about this to my rural dwelling family!).
Other charities like Tiny Forest and The Conservation Volunteers work with councils and community groups, the former planting native trees and creating small woodlands in areas as small as a tennis court. TCV runs Green Gyms and volunteering days across London, and offers a great chance to dip your toe into conservation projects in your area.
Transforming public space with the input and help of local residents automatically leads to a higher level of engagement with the landscape and seasons; whether by growing food, creating cleaner and greener spaces to spend time in or building habitat for much-loved creatures like bees and hedgehogs.
All of these wonderful projects show just how essential biodiversity is to us. Individuals and community groups are using their collective voices, and (sometimes rebel) actions to influence councils, governments and developers to consider the potential in transforming grey, sanitised urban areas into productive, rich and biodiverse places that work for the whole community, insects included.
So grab a handful of seeds, find a space and grow some shit!
If you'd like to buy organic seeds from The Wise House, or natural bird feed or indeed a variety of ethical gifts, then please visit www.thewisehouse.co.uk and use CODE INSECT10 for a 10% disount.
Resources
Listen To: Roots and All Podcast Episode 29 – Garden Design for Every Species with John Little of the Grass Roof Company
John Finlay TED Talk - A Guerilla Gardener In South Central
References/ Further Reading
https://www.theguardian.com/environment/2020/may/01/not-just-weeds-how-rebel-botanists-are-using-graffiti-to-name-forgotten-flora-aoe
https://theecologist.org/2012/oct/12/grey-green-transforming-londons-council-estates
https://www.theguardian.com/news/2018/mar/12/what-is-biodiversity-and-why-does-it-matter-to-us
https://theecologist.org/2012/oct/12/grey-green-transforming-londons-council-estates
https://www.theguardian.com/environment/2017/oct/28/organic-or-starve-can-cubas-new-farming-model-provide-food-security
https://www.hackneycitizen.co.uk/2019/11/12/citizen-gardener-garden-winter/
https://www.theguardian.com/lifeandstyle/gardening-blog/2014/oct/10/guerrilla-gardening-a-report-from-the-frontline
https://horizon-magazine.eu/article/what-urban-nature-really-means-insect-biodiversity.html
https://www.standard.co.uk/news/london/guerrilla-gardening-meet-the-man-who-plants-flowers-in-the-night-to-make-london-a-greener-city-a3236816.html
https://www.reuters.com/article/us-greece-environment-pocket-parks-idUSKBN2B320F