Simple Steps To Eco Living Part 3a - Skincare & Hygiene
Posted on
Those who have read my previous blog 'Growing Up In A Soap Family' will know that I grew up with humble beginnings when it comes to beauty products. My mum has always avoided perfumes, lathers and the like, preferring a simple bar of soap to do most of the hard work. Bubble bath came but once a year with Father Christmas. It was an eco friendly approach years before the term was coined!

In the spirit of teenage rebellion, as soon as I left home I did my very best not to emulate this approach, trying out all sorts of lotions and potions, taken in by the fabulous array of intoxicating (pardon the pun) marketing campaigns.

As the years have passed - and the creams have done little to minimise their impact :-) - I have returned to a pared down routine, just like mum.
In this third in our eco living blog series, I share with you the how, why, who and what of our simplified routine, and the steps we are taking to achieve it.

Step 1: Become A Soap Family
We've swapped shower gel for soap and we use it for our hands, face and body (and even on clothes as a stain remover!). Soap, the original all rounder, generally contains far fewer ingredients than shower gel, comes in minimal, recyclable packaging and is more sustainable to make and transport.

Soap is seeing something of a revival, with a wealth of small businesses specialising in making soap the traditional way using all natural ingredients. Unlike mass produced soaps, they are being made without palm oil, the production of which is responsible for large scale destruction of rainforest in countries like Malaysia.

The benefit of fewer ingredients and the absence of harsh chemicals is that these soaps don't strip the natural oils from your skin, and are usually suited to most skin types.

From a practical perspective, soap is easy to take on holiday. We cut ours into pieces, one for each of us, and pop into a linen bag (or use a stainless steel tin). No liquid issues at security, and a great space saver too.

Consider switching your shampoo to a shampoo soap bar. We are currently trialling Funky Soap shampoo bar, which I will review for The Wise House shortly.

It's time to kiss goodbye to your brightly coloured, synthetically scented shower gels - they are so 90s!
Swap shower gel for soap, and choose natural where you can (check the ingredients list as 'natural' doesn't always mean natural!)

We use the London based All Natural Soap Company, and we sell a range of their soaps at The Wise House. They smell gorgeous, and are suited to even the most sensitive of skin.

For good value natural soap, try Ethical Superstore, who stock a decent range.
On the High Street, try natural food stores like Holland & Barrett who tend to stock a good range.
| | |
| --- | --- |
| | |

Step 2: Swap Wet Wipes For Reusable Cotton Wipes
Wet wipes in all of their forms are undeniably useful. It turns out that they are also one of the most damaging products currently floating around the environment - and I do mean floating. They cause huge fatbergs in sewers, and are one of the most common items to be found littering beaches, having been washed down rivers into the sea.

Most wipes contain a form of plastic, which makes them incredibly strong...and unable to break down when thrown away.

Now that my children are past the bum/nose/mouth wiping stage I no longer have the need for wet wipes. I confess that for a few years now I have been using their old muslin cloths to remove my makeup (classy!) instead of cleansing wipes. Their faces are now rarely wiped (and certainly not by me) but when they need a mop up, they use reusable kitchen roll - essentially squares of soft cotton that can be thrown in the wash after use - or a good old fashioned flannel.

If you prefer something designed specifically to the task in hand (and that looks more presentable than an old cloth) there are a growing number of reusable wipes on the market, alongside nappies, sanitary towels and the like, most of which are made by small UK companies.
For reusable baby wipes, washable nappies and other eco friendly products, try Cheeky Wipes (they also sell washable sanitary pads), Nooby Noo and Baba & Boo.
If you don't want to live without disposable wipes completely, Ethical Superstore sell biodegradable wipes (but you still musn't flush them).

Step 3: Join The Period Pant Revolution!
With a nearly 11 year old daughter, I am absolutely thrilled to witness the changes and innovations in menstrual products. My personal favourite are the period pants - no, I'm not referring to the old, scruffy pair you reserve for your time of the month - the innovative, ultra absorbent pants that you can just put on and leave to 'do the job' for a few hours at a time when on your period.
I have been using WUKA pants for the past few months now, and they work a treat for keeping me dry and feeling secure. There are also a wide range of washable sanitary pads on the market. They come in a range of funky designs and work along the same principle of ultra absorbency. These are an excellent choice for teenage girls. You do need to rinse them out by hand, before popping into the washing machine. I find this easier to do this than having to rinse out knickers and clothes that have been subject to a leakage.

I keep a box of tampons in the cupboards for very occasional use on evenings out and the like. I like the Natracare range from Ethical Superstore, as they are made using natural materials and are chemical and additive free.
Try washable period pants or sanitary towels. Whilst the initial cost is relatively high, you will save £££ over months of not having to buy disposable sanitary products. We like WUKA pants. Cheeky Wipes and Babipur sell a good range of towels.
Switch to organic, recyclable alternatives by brands like Natracare. An excellent range is available from Ethical Superstore, including menstrual cups. For the high street, try health food stores.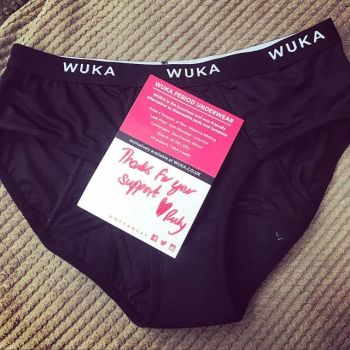 Step 4: Switch To A Stainless Steel Safety Razor
I switched to a safety razor around a year ago - such an easy swap to make to avoid disposable razors, blades and plastic packaging. I bought five stainless steel blades with my razor, and haven't had to buy any more as yet as they stay sharp for ages. A great money saving swap!
My razor came from the English Shaving Company, and I opted for the Edwin Jagger. The blades are recyclable and no plastic is used to manufacture the razors.
Step 5: Review and Reduce The Number of Products You Use
We live in an era of information overload, a time when most of what we eat, breath and put on our skin is under question. Our homes are deemed to be toxic (see Toxic House Syndrome) and the products we use contain a mind-boggling array of chemicals, too many to name, let alone understand!

The message I choose to take from all of this is that less is more. It makes good sense to go back to basics, and reduce the number of potentially harsh chemicals that we use by reducing the number of products we use. If an effective natural alternative exists, with far fewer ingredients that I can understand, that's all for the better.
Take a look at the products in your house and decide what you could live without. It is OK to save some products 'just for Christmas'!
Take advantage of the many eco friendly brands out there. Most of them are independent, ethical businesses making it far easier for us to make simple swaps! Instagram is a fantastic resource for finding them.
Be open to trying natural alternatives versus your favourite brands. Whether it be deodorant, face cream or shampoo, there is no harm in trying!
Thank you for reading our latest blog post. We'd love to hear your feedback and ideas. Please leave a comment below, and your name will be entered into a prize draw to win one an Evolve Natural Beauty Starter Kit & a Natural Soap.
References & Online Shops
https://www.huffingtonpost.com/deborah-burnes/skin-care_b_1540929.html
https://www.theguardian.com/sustainable-business/2017/sep/28/last-place-on-earth-deforestation-palm-oil-threat-leuser-rainforest
https://grist.org/living/whats-the-greener-choice-bar-soap-or-body-wash/
https://www.bbc.co.uk/news/44034025#
https://bodyunburdened.com/5-face-oils-for-naturally-clear-flawless-skin/
https://www.beautykitchen.co.uk/