My List Of The UK's Top 15 Sustainable Fashion Brands 2022
Posted on
My Top Picks for the UK's Sustainable Fashion Brands 2022
Up until my early 30s a new season meant a trip to the high street for a splurge on new clothes with the mindset that I 'needed' new winter boots, a new summer dress etc. It's the behavioural norm for most of us, and explains why we often run out of storage space for clothes and have items in our wardrobe that have seen little wear!
For a number of reasons, I've stopped this kind of impulse buying. I don't like to have too much stuff for a start, as it means less space, more decisions and more waste. At the age of 42, I have plenty of clothing to meet my practical needs, and I still like and fit into most of the clothes I have bought over the years.
Most fundamental of all, I have become far more aware of the high environmental and social price paid for fast fashion;
'The fashion industry is one of the most polluting industries in the world, causing human misery, enormous cost of life and gigantic environmental devastation." Vandana Shiva
About Fast Fashion
Ex fashion designers like Lucy Siegle (The One Show's ethical expert) continues to raise awareness of an industry where people and the planet come second to selling the latest trends at an increasing pace and volume. But there is still a lack of transparency that keeps us in 'blissful' ignorance.
'In my opinion, this is a crisis. Mainstream fashion is dogged by a paucity of ideas and a failure to commit to deep sustainability and activate real change.' Lucy Siegle, Businessoffashion.com
Siegle's book 'To Die For: Is Fashion Wearing Out The World' is a sobering read. From the example of a shopper dropping her Primark bag in the rain and not bothering to pick it up, to the drying up of the world's 4th largest lake, the Aral sea, used to irrigate intenstive cotton growing fields. Our disposable approach to fashion in the west is inextricably linked to this level of exploitation.
'The exposure of the bottom of the lake has released salts and pesticides into the atmosphere poisoning both farm land and people alike. Carcinogenic dust is blown into villages causing throat cancers and respiratory diseases.' Tansy Hoskins, The Guardian
Questions To Ask & What To Look For When Shopping Sustainably
In more recent times, most of us have become increasingly aware of our purchasing decisions, questioning whether or not we are inadvertantly supporting unsustainable practices - from slave labour and intensive cotton farming to high carbon emissions and polluted waterways.
Look for the following information when browsing in store, on line or in a catalogue:
Who makes the clothes, and where?

It's good to see companies like Boden (somewhat belatedly) giving information on where their clothes are made. Look for accreditations like Boden's Responsible Sourcing Commitment. Look for information on the countries where clothes are made and the factories they are made in.


What fabric are the clothes made from?

This information should be in the product description. Look for natural fabrics like 100% cotton/ organic cotton, hemp, linen and wool. Avoid or limit polyester or look for recycled polyster where it's hard to avoid it altogether. When buying denim and swimwear look for recycled cotton and polyster. Look for sustainable viscose and specialist fabrics like LENZING™ ECOVERO™.


What is their waste policy?

It is generally the high street and fast fashion brands that incinerate and throw away a huge amount of clothing. Look at the sustainability and ethical policy and see what the companies policy is on clothes waste. Many now offer recycling facilities and clothing donation points.
As consumers, we have the power to make better choices when shopping for clothes. Fashion is hugely evocative, but dressing well and looking nice should be something we can acheive without the need to over-stuff our wardrobes.
The best thing we can do is to buy less and treasure the clothes we do have. Charity shops are abundant, and are another way to buy new clothes without buying new.
I can see no reason why clothes should ever end up in landfill. Charity shops, fabric recycling, local friends and family, are all options for passing on clothes that you no longer wear.
On my journey with The Wise House I have discovered some fantastic fairtrade and ethical fashion companies, with sustainable practices at the very heart of what they do. Buy less, shop ethically, go for style and substance over fast fashion. It's a start!
The Top Sustainable Brands
Thrift+

A forward thinking online shopping platform selling second hand high street and designer clothes. It works just like any other online clothes store, with easy to follow categorisation of clothing. They tell you the condition the clothing is in. They also make it easy to donate clothes. You simply order a free bag, posted out to you next business day. You fill it up with clothes and find a free local drop-off point (Collect+) or arrange next day collection from your door. After they have charged a small selling fee, proceeds of successful sales are split equally between you and your chosen charity.
Other Second Hand Clothing Shops:
People Tree

One of my favourite items of clothing came from People Tree; a beige jumpsuit made from thick 100% organic cotton. It's so versatile and has been worn on evenings out and for daytime events. On a balmy evening in London whilst sitting at an outside bar with my bestie, I was very flattered to be asked by a trendy young lass as to where it came from. I was happy to point her in the direction of an ethical company of whom she had never heard!
I love their new Corduroy culottes and shirt dress too. You can see in the product details (as is the case with all of their clothes) where, by whom and with what the shirt is made:
'100% organic cotton, made by Assisi Garments, a social enterprise in India. The skilled artisans at Assisi transform Fairtrade and organic cotton fibre into beautiful handmade garments.'

Marlowe Apple Shirt £59, People Tree



Organic Cotton Jumpsuit
Spring/ Summer Collection, People Tree
Rapanui

They sell a range of well designed practical clothing for men, women and children. They operate on a truly circular supply chain, with all products made from natural and recycled materials, using renewable materials and designed to be sent back when worn out. New products are made from recovered materials.
Their factory is on the Isle of Wight, and the t-shirts rather amazingly are made in real time, after they are ordered. They only make what people actually need, when they need it.
I can also personally vouch for the organic cotton knickers. They are cut really well, making them comfortable and flattering. I have my eye on this oversized coat, perfect for dog walking!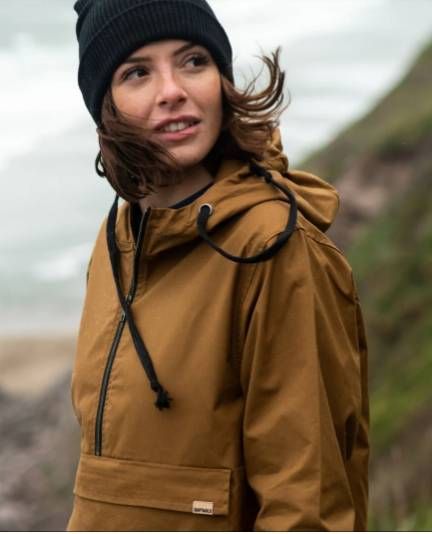 Kemi Telford

Beautiful, bold skirts, dresses and other clothes designed in the UK by the charismastic Kemi Telford. This quote sums up the company - 'The clothes we design and sell are more than just stylish clothes; they are loud, bold and tell the whole world, "Look at me, I am fabulous." '
They work closely with smallscale manufacturers, ensuring fair pay and excellent working conditions. They are transparent about their sustainability values, and improving all of the time with intiatives like using remnant materials to make accessory products, and sending orders in paper packaging and paper tape.
A totally inspiring website! This is me in my Kemi Telford shirt ealier this year.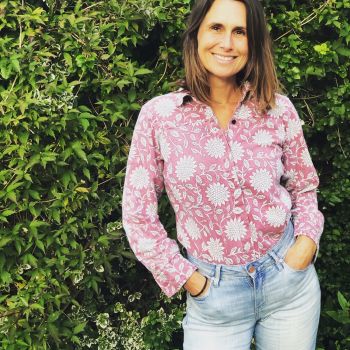 TwoThirds, located in Barcelona (international shopping available) design a sustainable clothing line made ethically in Portugal. They place great emphasis on the materials they use, constantly analysing and searching for better alternatives that will reduce environmental impact. They also carry out a great deal of work on marine preservation.
I bought two jumpers from them last year, the yellow stripy number you can see below and one of the cute whale jumpers. They are really well made and warm, and I wear them all of the time. I really love the Sibu knit pictured below left (62.40 euros) - this may well make it onto my birthday list (October)!
Bibico

Bibico is a small sustainable clothing company based in Bath. The clothing is designed by its founder, Snow, and made ethically by producers that they know and trust.
'I had been designing for major high st clothing brands for over 10 years and had become disillusioned by the industry how it had changed in 10 years from producing 4 collections per year to churning out new collections every week. The clothes were cheaper but the quality was worse and there was no consideration for the people producing these clothes.'
Bibico is new to me, and I am yet to try any of their clothes out myself. A couple of my favourite items from this season's collection are the Gracie Floaty Skirt (£59) and the Elena Organic Pinaford Dress (£49).
Other brands to try are:
If you are simply looking for wardrobe basic vests, t-shirts and nightwear, then at The Wise House we sell a range of clothes made using either organic or fair trade cotton.

Use code SUSTAIN10 for a 10% discount.
References/Resources
https://www.theguardian.com/sustainable-business/sustainable-fashion-blog/2014/oct/01/cotton-production-linked-to-images-of-the-dried-up-aral-sea-basin
A MUST SEE! The Wardrobe To Die For - Lucy Siegle. TED Talk. https://youtu.be/YglyHzvBqpA
https://www.theguardian.com/fashion/2013/may/17/ethical-shopping-high-street-fashion
https://www.businessoffashion.com/community/voices/discussions/can-fashion-industry-become-sustainable
http://www.make-do-and-mend.org/overconsumption_of_clothes__2.html