Your Life & Home In Colour
Posted on
I picked up a lovely book from our local library the other week called 'Sense of Style, Colour & Space'. It's a book that celebrates colour in all its forms and is written in an unpretentious style by Australian author, Shannon Fricke. I love her passion, sense of humour and believe that style should be unique to each one of us;
'True style stems from the heart, not from the pocket.'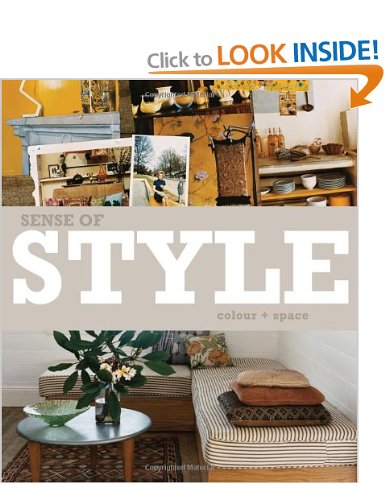 In my experience of talking to people, we can all be a bit wary or even frightened of using colour in our homes. No one wants to get it wrong and be 'hemmed in' by a colour scheme that they no longer like!
It's also easy to be swayed by what is in vogue at the time (hand me the Farrow & Ball colour chart) or to stick with safe muted whites or colours that we've tried and tested in the past. But in what way does that reflect who we are?
Deecorating your home should be about filling it with colours that mean something to you; that give an insight into the interests, lives and personality of you and your family.
What really stuck in my mind from this book is Shannon's message on how incredibly emotive colour is, and how every one of us has our own personal colour associations (much as we might do with certain names).
I've been thinking about this ever since and suddenly realised why I never feel comfortable in an Emerald Green jumper that I bought this winter. It's the same colour as the shapeless sweater that I had to wear for years in my former life as a fitness instructor. No matter that it is now teamed with some silver hoops and skinny jeans - I can't escape that deep routed feeling which means that shade of green will probably never be for me.
So when choosing colours for your home, it stands to reason that you should choose tones and shades with positive associations. Get your creative brain on and think about what it is in life that you really enjoy?
What things do you like to collect and surround yourself with? It might be the food you eat, the clothes you wear, your favourite holiday destinations. Inspiration can be found in magazines, books, art and the likes of Pinterest. Everything has images and colour associated with it.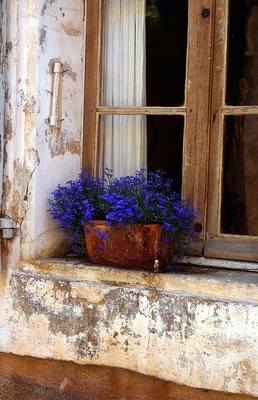 My favourite places are by the sea, walking in the woods or picnicking in a field. I love being in the great outdoors. The colours I associate with these places are greens and blues (which I do use a lot in my home) as well as browns and more earthy colours. I also love burnt orange, the colour of dusk, and am toying with the idea of using this on one wall in my lounge when we next re-decorate.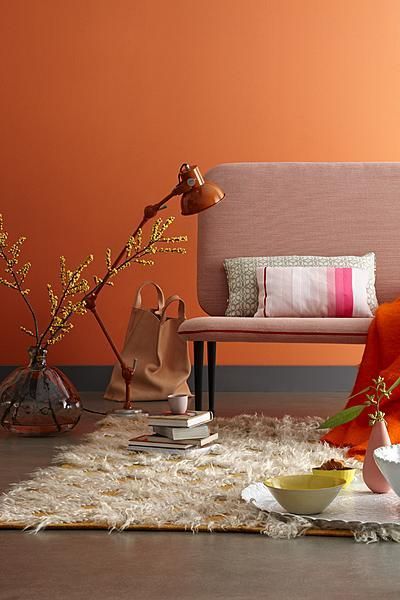 http://www.vtwonen.nl/wooninspiratie/brutaal-oranje.html
Think about your own life story and the colours you associate with it. Take a bit of time to stand in a room and visualise how you want it to look and feel. Take into account the light from the windows, lighting, the space and what you want to use the room for. Do you want a relaxed vibe? Or do you want the room to be a hive of activity?
We recently painted our kitchen in Apple Green as the double doors and windows look out onto the back garden where there are a myriad of different shades of green.
'Green connects us with nature, with the trees and plants around us, with the very things that enable us to thrive.' Shannon Fricke.
The garden is punctuated with displays of different colour throughout the year; currently white from the Spirea and Japanese Magnolia, soon to be the most fabulous purple from the Ceanothus at the back of the garden.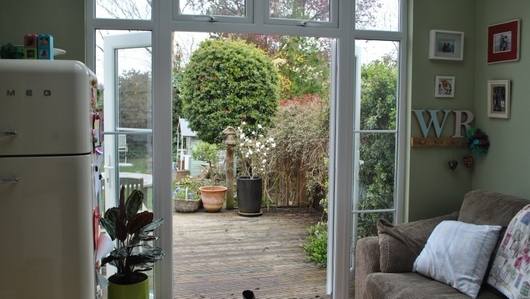 In line with these pops of colour I have lots of different colour accents in the kitchen; a multi coloured pompom garland, blue and white blinds, a red wall print, the children's artwork, to name but a few. It all flows with the garden and is a fun, welcoming room.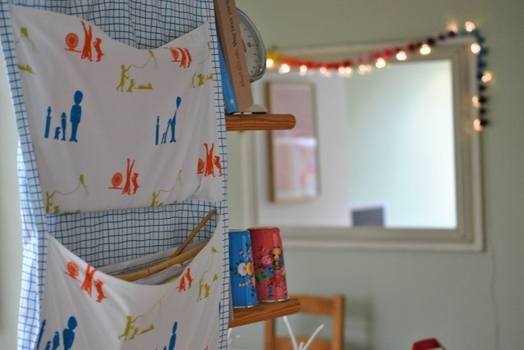 Colours can work for us in very different ways. White is a colour with which I have a mixed relationship. I have succumbed to the white wall fashion in the past and spent the entire time feeling as though the room were unfinished. White walls just don't work for me.
Yet I absolutely love white bedding, a crisp white shirt, white flowers and blossoms. This morning I picked up a little sprig of white blossom that had fallen from a tree. It's now on the windowsill with a branch of Spirea and I absolutely love it. White has a certain luminosity that works better for me as an accent colour rather than the backdrop – after all, that's how nature uses it!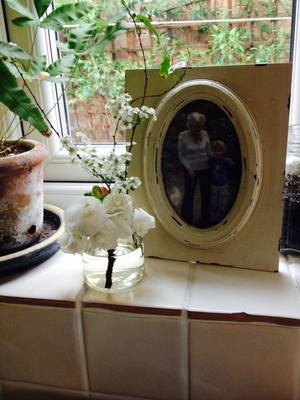 Shannon does give some great advice of some of the more generic qualities for each colour and which colours work best for which rooms. Here are a few examples with extracts taken directly from her book.
GREEN
Did you know that our eye can recognise more shades of the colour green than it can of any other colour?
Some generic associations of green are; harmonious, relaxing, tranquil, nature, energy, life.
Green works where…
In areas of the home needing calm and serenity such as bedrooms; and in bathrooms and lounge rooms, which are primarily used for relaxation.
ORANGE
'Orange is the happiest colour.' Frank Sinatra
Orange is associated with; warmth, retro, funky, dusk, creativity, strength
Orange works where…
Anywhere that could do with some energy and humour, such as lounge rooms, kitchen and even bathrooms. (I quite like the idea of it for my son's bedroom).
BLUE
Because of the relaxing qualities of blue, a room can cope with being awash with even the most intense shade. Blue is the colour that many of us hold most dear.
Blue is associated with; the sky, the sea, vitality, sunny days, happiness, soothing, positive thoughts
If you need to get something done, but lack focus, dip into blue for a quick burst of enthusiasm.
Blue works where…
Everywhere! Blue and white is a fresh combination (and a personal favourite). Blue and green will put you in a meditative mood, and in touch with your inner self. Blue and red will give you an injection of spirit.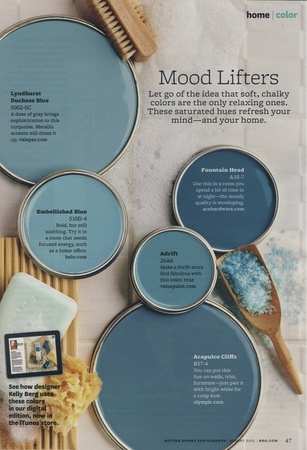 http://www.pinterest.com/pin/570690584003367338/
Hopefully I've now wet your appetite for colour in all its glory! Just stop, look around you, and start to build your own colour palette. Oh and be brave!!
Shannon also has a great blog for more inspiration; http://shannonfricke.com/blog